From art to culture, from architectural uniqueness to historical significance, from colorful bazaars to mouth-watering dishes. You can find it all in Udaipur, also known as Venice of the East and City of Lakes. There are several places to visit in Udaipur city. It has essence in almost every corner, and you can experience it yourself by visiting the temples, ghats, resorts, landscapes, lakes, and other pristine water bodies on your next trip. Do you want to know more? You can check out the below list of the best places to visit in Udaipur.
1) Lake Pichola
Udaipur is popular with the name, city of lakes, so visiting this lake is a must. The best part is although it is an artificial lake, it still holds the nerve of the city. And, if you wonder how? The sunset boat ride can help you experience the same. You can not only enjoy the shimmery water but also enjoy the scenic beauty of ghats, palaces, temples, mansions, and other surrounding landmarks. Visiting this serene place won't take much of your time as it comes in the category of best places to visit in Udaipur in 2 days.
2) City Palace
This largest complex of Rajasthan is present on the banks of Pichola Lake. Its incredible architecture built with granite and marble makes it an important place to visit in Udaipur in 2 days. It consists of several royal processions like mirror and marble work, colored glasses, Mewar paintings, ornamental tiles, etc. The panoramic gardens of Amar Vilas, the splendid décor of Moti Mahal, the delicate mirror work of Sheesh Mahal, the serene temples near Rang Bhawan, the exquisite images of peacocks at Mor Chowk are some of the most admired things about this exceptional masterpiece. 
3) Saheliyon Ki Bari (Garden of the Maidens)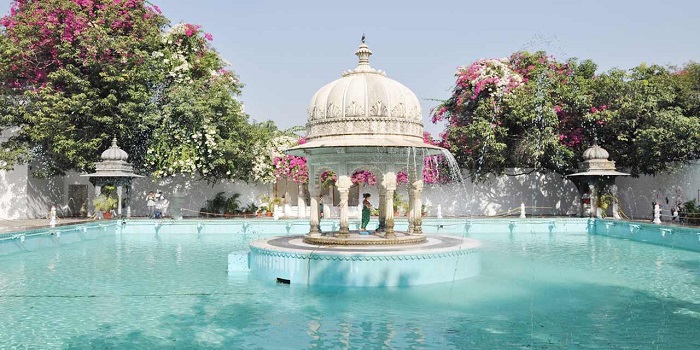 Don't you find this name interesting? And, if you think it is somewhat related to friends. Then you are partially correct. The garden was a present by Maharana Sangram Singh to his wife so that the royal queen could spend her leisure time with the 48 maidens (who accompanied her at their marriage). The spot was then used as a recreational place for the royal ladies, away from the court's political turmoil and intrigues. How lovely those times were! The numerous fountains and beautiful flowerbeds enhance the overall ambiance of this place. Its aesthetic beauty makes this place one of the most important places to visit in Udaipur.
4) Bagore Ki Haveli Museum
Can you imagine a mansion with more than 100 rooms? That is quite astonishing. Don't you think? But if you wish to explore more, you need to visit this place for sure. This museum is one of the main places to visit in Udaipur as it describes the Rajasthani culture very well, specifically the Rajput clan. Its corridors, balconies, courtyards, art galleries, private quarters of royal ladies, royal costumes, and intriguing paintings can help you witness the royal lifestyle of ancient times. Also, you can try to visit this place in the evening as the lightened mansion, puppet shows, folk dances, and other performances by the local artists might make you fall in love with the city. The evening shows and the lit-up mansion make it one of the best places to visit in Udaipur at night.
5) Sajjangarh Monsoon Palace
The initial plan was to construct a nine-storeyed astrological center for studying the pattern of monsoon clouds. However, the premature death of Maharana Sajjan Singh of the Mewar dynasty ruins the construction plan. Thereby, Maharana Fateh Singh made some modifications. This Palace present at the hilltop was then used as a hunting lodge, a recreational spot for the royal families and their guests. And today it is considered an important place to visit in Udaipur city.
6) Gulab Bagh and Zoo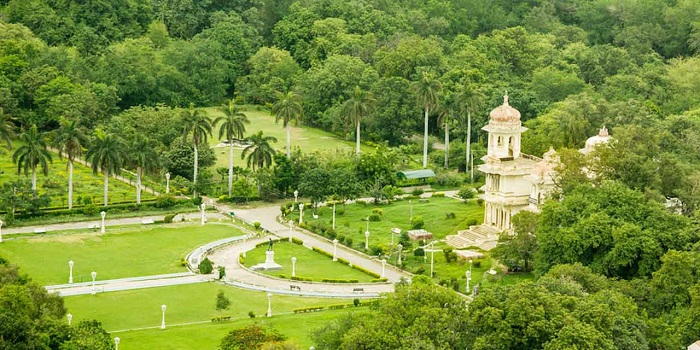 Whether it comes to kids or adults, this place is a one-stop solution, categorizing this in the list of best places to visit in Udaipur in the evening. The abundance of roses, diversity of flora & fauna, a wide variety of prominent trees, and the scenic lotus pond are a real treat to the eyes. The zoo within the garden consists of various rare species like wide-eyed owls, leopards, rhinos, ostriches, zebras, etc. 
7) Vintage Car Museum
As individuals, we all love to explore the luxurious & magnificent lifestyle of royal families. And, this museum will take you to those grand times, where you can discover the royal collection of cars. Even your kids might enjoy this place looking at the fascinating and fully functional antique cars with such proximity, making it another good place to visit in Udaipur.
8) Jagdish Temple
The list of best places to visit in Udaipur is incomplete without this. This 79 feet high Hindu temple is devoted to Lord Vishnu and is an architectural masterpiece of art and devotion. The brass idol of Garuda (vehicle of Lord Vishnu), having half-man & half-eagle features, guards the doorway of the main shrine. The magnificently carved pillars, beautifully decorated ceilings, amazingly painted walls, marble staircases, and luscious halls are the most striking features of this holy place. Several devotees visit this temple to seek blessings from the preserver of the Universe (Lord Vishnu or Laxmi Narayan).
These were some of the best places to visit in Udaipur city. We hope you are excited about your next vacation. Happy Traveling!