When someone asks us about Rajasthan, the first thing that comes to our minds is deserted landscapes and hot climatic conditions. But the capital of Rajasthan, Jaipur, holds much more than that. Jaipur is also known as the Pink city. It is a hub of marvelous architecture, authentic culture, and hearty meals. Although, there are so many places to visit in and around Jaipur. However, if you are in the city, you can still enjoy yourself. Just check out the below-provided list of the best places to visit in Jaipur, which you might consider visiting.
1) City Palace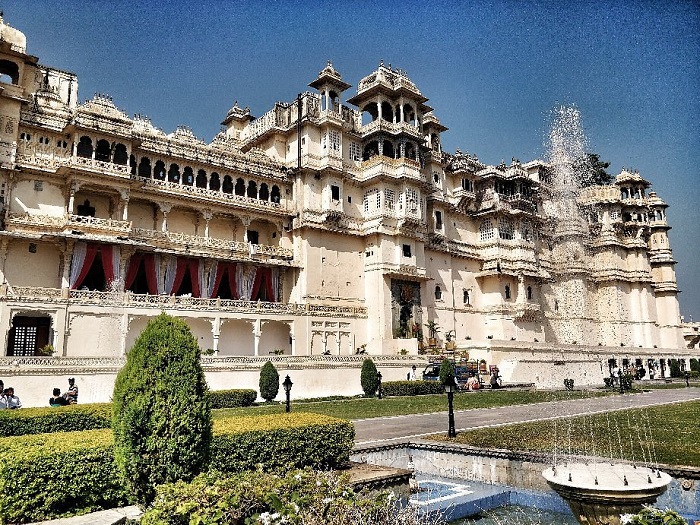 This complex is a blend of Mughal and Rajput architecture, divided into distinct parts like courtyards, balconies, pavilions, galleries, gardens, and temples. Also, it is an exquisite symbol of art and culture. The beautifully sculpted walls, detailed carvings on ceilings, hand paintings of the bygone era, well-assembled mirror & marble work make it one of the best places to visit in Jaipur. You can experience the sheer delight as soon as you see the four gates at Pritam Niwas Chowk, representing four different seasons. The Mor Gate with peacock images represents the autumn season, and the Lotus Gate, Leheriya Gate, Rose Gate gives you a feel of summer, spring, and winter seasons simultaneously.
2) Jantar Mantar Observatory
It is one of the top places to visit in Jaipur, especially if you love astronomy and scientific reasoning. In this modern era of science and technology, we have satellites for weather forecasts and other climatic monitoring. But how come such predictions done in ancient times? Aren't you curious to know more? Visiting this observatory can provide you the answer to all your questions. The word 'Jantar' comes from the Sanskrit word Yantra, which means a machine, and the word Mantar comes from the word Mantrana, which means to consult or calculate. So, Jantar Mantar means an instrument for calculation. The astronomical instruments present here were used as a source to track and position the celestial bodies, to predict eclipses, and to justify other scientific and cosmological concepts of those times.
3) Amber Fort
This complex built with marble and pale-yellow sandstone is a perfect fusion of Mughal (Islamic) and Hindu (Rajput) architecture. Its regal finesse and artistic elements make it an important place to visit in Jaipur in one day. Some of the most prominent features include Suraj Pol (Sun Gate), Chand Pol (Moon Gate), Ganesh Pol, Sukh Mandir, Sheesh Mahal (Hall of Mirrors), Zenana (Women's quarter), etc. The illustrative paintings, wall carvings, labyrinthine passageways, royal courtyards, and soothing gardens provide you with a spell-bound experience. It also has a Bollywood touch as films like Jodha Akbar and Veer were shot here. Moreover, the availability of elephant rides makes it a fun place to visit in Jaipur.
4) Nahargarh Fort
You might have watched the movie Rang De Basanti. Do you remember the beer-drinking scene of Aamir Khan at the stepwell? That shoot was done here, at this fort only. Even songs like Masti ki Pathshala & Khalbali have clips of this famous fort. This edifice monument was built by Sawai Madho Singh for defense purposes, standing tall at the edges of Aravalli Hills. The Madhavendra Bhawan is the most striking feature of this fort, having 12 identical chambers of 12 queens married to Sawai Madho Singh. Though it has connecting hallways, yet the interiors are mysterious. If the King used to visit a queen in her suite, the other eight queens couldn't guess the same. Moreover, if you wish to witness the breathtaking city view when the entire city glows with lights, nighttime is the best. Thus, it is one of the best places to visit in Jaipur at night.
5) Hawa Mahal
Due to the cold and breezy air covering the entire Mahal, it was named Hawa Mahal (The Palace of Winds). It has a sum of 953 jharokhas (or windows) which provides relief from the scorching heat and hot weather of Rajasthan. This Mahal was specially built for the royal ladies of the bygone era so that they could enjoy the royal processions, festival celebrations, and other activities without participating publicly (as were the restrictions of those times). In the evening, you can enjoy shopping at the nearby bazaars showcasing traditional souvenirs, and at night you can please yourself with the spectacular view of the lit-up Mahal, which makes it another lovely place to visit in Jaipur at night. It is also considered one of the best places to visit in Jaipur for couples, owing to its awe-inspiring & luscious view at nighttime.
6) Jal Mahal
Although you cannot go inside the Jal Mahal or The Water Palace yet sightseeing from the pathway surrounding Man Sagar Lake can give you a charming view. Its exquisite architecture and Rajputana grandeur grab your attention all at once and list it under the category of best places to visit in Jaipur.
7) Chokhi Dhani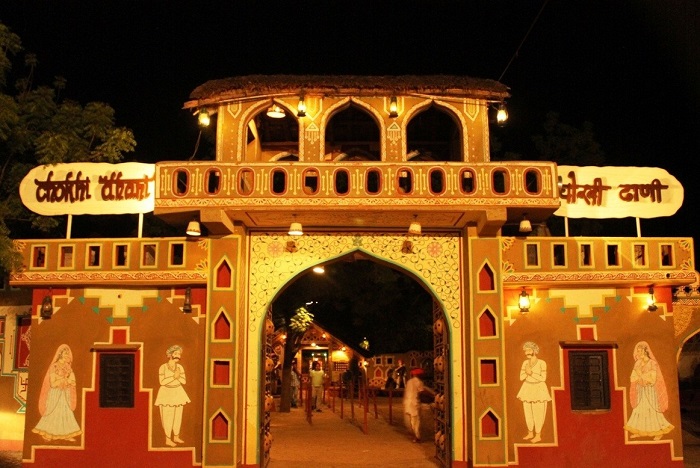 If you are looking for a family trip or honeymoon trip, this is another option added to the list of places to visit in Jaipur city. And, if you wish to experience everything about Rajasthani culture in just one day, this place is for you. From the traditional folk dances to puppet & magic shows, from animal & cart rides to fun games, from mesmerizing art to mouth-watering cuisines, you can find it all here, thus making it an attractive place to visit in Jaipur in one day. You can even relive the memories of ancient times by witnessing the most famous battle named Haldighati Battle (a fierce fight between the Mughals and the Rajputs) enacted by the local artists. Besides this, you can also go shopping and visit the temples like Vaishno Devi Temple, Balaji Temple, Ganesh Temple, etc.
8) Birla Mandir

Possibly, it is one of the most famous temples to visit in Jaipur. This Laxmi Narayan Temple is entirely built with white marble and promotes the equality of religions & the three domes justify the same. The decorated idols, stunning carvings, mythological quotes are the most adorning features of this place. The lush gardens and colorful flowers add serenity to this Holy Place. And at night, when the white marble shines among the surrounding lights, the sparkling lights make it another charming place to visit in Jaipur at night.
There are numerous places to visit in and around Jaipur, and the best ones have been listed here for your quick reference. So, make sure not to miss any. We hope you have a happy trip ahead.