Every time my mom is in a good mood, she cooks something special, and every time she cooks Dali Bati Churma, something is always missing. I never tell her anyways. But I used to wonder, was she missing some quintessential ingredient. When I visited this Indian state, I came to know the reason. And, it might surprise you that it wasn't any ingredient but the authenticity of this traditional Rajasthani dish. From the way the dish gets served to the carefree style of eating, it's just amazing. Want to know more about this soulful city? You can check out the below list of the best places to visit in Rajasthan.
1) Udaipur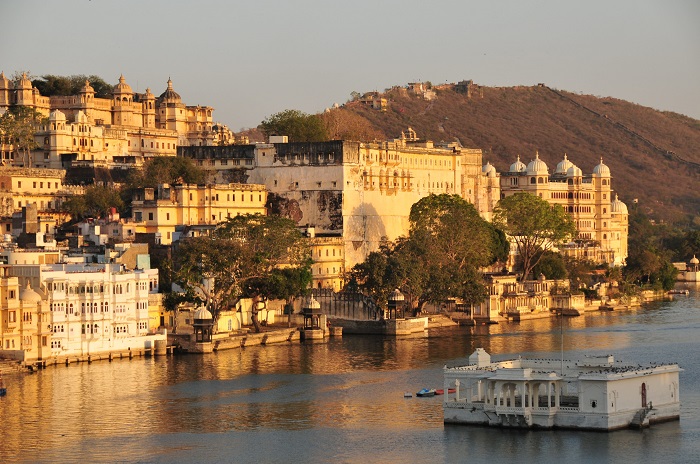 If you are particularly looking for a list of places to visit in Rajasthan in December, this place is a must-visit. The warm days and breezy nights of the winter season can make your trip epic. Udaipur is known to be the most romantic city in the country. The expansive lakes (due to which the city earned an epithet, the City of Lakes) and the lush green Aravalli hills are the most admirable features of this city. This city houses a collection of natural & artificial lakes, palaces, museums, gardens, temples, royal heirlooms, etc. Its scenic beauty, the availability of boat rides, and the historic bazaars displaying the unique art collections make it one of the best places to visit in Rajasthan.
Also read- Must visit places in Udaipur, The City of Lakes
2) Jaisalmer
This Golden City is another option for you that comes on the list of best places to visit in Rajasthan in December, owing to its sandy appearance during the day and the golden-coloured sandstones glorifying its architecture. Jaisalmer Fort or Sonar Qila is another striking feature that comes to your rescue. Visiting this fort can help you witness the exotic landscapes, ancient Havelis (mansions), and the undulating dunes of the Thar desert, which represents the rich cultural heritage of the place. You can also go for souvenir shopping, camel safaris, or have a stroll around the labyrinthine streets.
3) Jaipur

Jaipur is also known as the Pink City since pink is known to be the colour of hospitality. Its glory is well-elucidated by the pink-coloured historic buildings, lively bazaars, and other surplus advantages that this metropolitan city holds. Its architectural beauty, luxurious resorts, and lip-smacking cuisines make it another good place in Rajasthan to visit.
Also read- Must visit places in Jaipur aka 'The Paris of India'
4) Jodhpur
This second-largest city of Rajasthan is also known as the Blue city (due to blue painted buildings) and Sun City (as the sun shines brightly throughout the year). The largest fort in Rajasthan named Mehrangarh Fort is the most adoring place to visit if you are in the city. You can also visit Umaid Bhawan Palace to have a glimpse of vintage cars, murals, and other antiques that will give you a chance to explore a little about traditional life. Pro-tip, you can avoid planning your trip in the summers to protect yourself from the scorching heat. Thus, another preferable added to the list of places to visit in Rajasthan in August.
5) Pushkar
As per Hindu mythology, it's strongly believed that Lord Brahma once dropped a lotus on the land, and it immediately created a lake. This lake was then named Pushkar. The serene ghats and the annual Camel Fair categorize this city among the most significant places in Rajasthan to visit. This camel fair attracts numerous tourists where they can have fun experiencing the crowds buying and selling livestock like camels, horses, and other cattle. They can even grab the chance to participate in the awe-inspiring celebrations carried through competitive and other traditional sporting events.
6) Ranthambore National Park
This National park spreads over an area of about 392 sq km. with evocative scenery. Besides, if you wish to spot a tiger in its natural habitat, this place offers you good chances to witness one. And not just tigers, you can also have a sight of leopards, hyenas, bears, and a wide variety of birds. Wildlife safaris and other open-top vehicles like gypsies and canters are a must-have experience for sightseeing in this massive park.
7) Bikaner
Image credits –

Salil
If you love food or are quite an enthusiast visiting this place is a must-try. The heartwarming people, fun-filled camel rides, and the local cuisines can leave you with an ever-lasting experience. The cultural richness of Junagarh Fort, Lalgarh Palace, and other temples have added this place to the list of must-visit places to visit in Rajasthan in August.
8) Mount Abu
Being the only hill station of Rajasthan, it is one of the best places to visit in Rajasthan summer. The best part is the moderate temperature as it provides comfort from the hot climatic conditions of Rajasthan. The picturesque beauty of Nakki Lake near the mountain makes this another best place to visit in Rajasthan, providing you with some thrilling activities like hiking, boating, etc.
9) Osian
This desert town is also known as the Khajuraho of Rajasthan. The place is renowned for the well-preserved sacred temples like Sun Temple, Kali Temple, Sachiya Mata Temple, and Mahavira Temple, connecting several Hindus and Jains with their divinity & spirituality. Also, you can try engaging yourself in camping activities under the starry sky as it is a must-have experience if you are at this place. Rugged landscapes and extreme temperatures of the Thar Desert make it another suitable option in the list of places to visit in Rajasthan in December. 
10) Chittorgarh
If you are looking for a beautiful getaway from the city chaos, this place deserves a visit. You can visit Chittor Fort, which is considered the largest fort in India, and witness its architectural excellence. Other Palaces like Kumbha Palace, Padmini Palace (named after Queen Padmini or Padmavati of Mewar Kingdom), Ratan Singh Palace also takes you to the saga describing the valiance of Rajputs. 
11) Bundi
This town situated in the Hadoti region holds a charismatic grandeur with a blue hue (the blue painted homes protect the locals from the hot weather). Apart from the forts and palaces like Taragarh Fort & Garh Palace, rural villages, stepwells & picturesque lakes dotted throughout the town attract numerous tourists to this charming holiday destination. 
12) Mandawa
Art-lovers might consider visiting this place for sure. The miniature paintings, murals, handicrafts, and other splendid artefacts present in almost every corner of the city beautifully represent the history and culture. The iconic Havelis and the main fort having a painted gateway of Lord Krishna with his cows make it another good place to visit in Rajasthan in December.
13)  Alwar
The adventurous activities offered at Sariska Tiger Reserve are a must-try. You can also have a tour to discover wildlife such as Royal Bengal Tigers, leopards, wild cats, and other varieties. Besides, boating at Siliserh Lake can also provide you with some outstanding views. And, not to miss, you even have a chance to satiate your sweet tooth by having some soft milk cake (Alwar ka Mawa or Alwar Kalakand) from the nearby sweet shop.
14) Bharatpur
The not-so-hot temperature makes this place another feasible option in the list of places to visit in Rajasthan in summer. Bharatpur Bird Sanctuary or Keoladeo Ghana National Park is the home of several different species of animals and migratory birds like ducks, geese, flycatchers, cranes, etc. Its serene atmosphere and natural splendour not only provide you with incredible sightseeing but also provide you with a chance to engage in birdwatching. Other tourist attractions include Lohagarh Fort, Deeg Palace, Ganga Mandir, Laxman Mandir, Bankey Bihari Temple, etc. The rejoicing celebrations of the Braj Festival (celebrated after Holi) makes it another great place in Rajasthan to visit.
15) Ranakpur
Ranakpur is a small village retaining an abundance of natural beauty. It houses a good collection of Jain Temples that symbolise spirituality and devotion among the devotees and are a perfect example of Jain artistry. You can also engage yourself in other thrilling activities like trekking and jeep safari rides at the Ranakpur Wildlife Sanctuary. But beware of the tranquil lakes and mesmerizing waterfalls since you might end up spotting crocodiles.
We hope you have a great time on your trip to Rajasthan.