Regardless of being well known for its history, architecture and painting, this city Lucknow additionally provides you with a combination of brain-blowing food items.  The taste of Lucknow's famous food will stay on your tongue for a long time. Whether it be snacks, meal/lunch, drinks, desserts and the list goes on. 
The flavour of these food sources will remain in your mouth for a long, long timespan, and each time you think about them, they will leave you happy and cheerful. 
If you are around in Lucknow and wanna taste the absolute best and famous dishes, continue reading. 
Here is a list of places to eat in Lucknow that will make you want to come here repeatedly.
1) Chaat Basket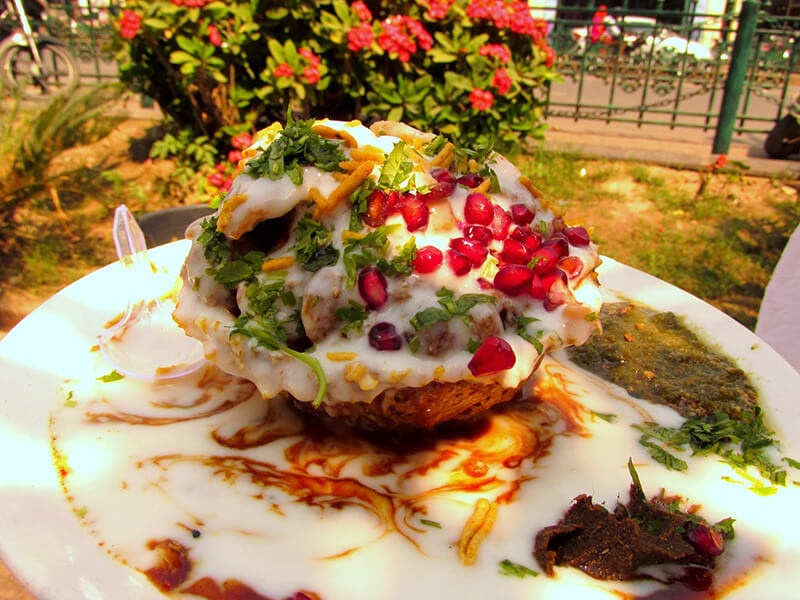 In India, each state has its kind of chaat, and Lucknow isn't exceptional. The chaat in Lucknow is unique because it isn't served on plates like ordinary chaats; it is served in a basket made from potato cuts. The chaat is made with different flavored spices and a mix of Indian chilly and dried tamarind and ginger sauce. The garnishing is finished with yogurt and coriander leaves. The sweet and sour taste of the dish will leave you desiring it more. It is one of Lucknow's famous food. 
To have the best chats, head towards the famous chaat shop in Lucknow; Shukla Chaat House is the place where you'll discover Lucknowites crowding. Shukla Chaat House serves just lip-smacking aloo Tikkis, which you can never have enough of! So for your next evening visit and chaat sesh with your buddies, do come over and prep yourself to blown away at the main chomp.
2) Shahi Tukra
The name itself portrays what royal of a sweet it is. In the previous years, it was used to be served to the royals only. Shahi signifies 'royal' and Tukra implies 'piece.' It is a piece of fried bread with creamy, saucy dessert. It is made with fried bread coated with sugar and soaked in condensed milk. Its garnishing is finished with dry fruits products on the top. This royal dessert will leave your mouth sweet and creamy for a very long time. In Lucknow, the best two restaurants selling the shahi Tukra are Mughal Zaika and Dastarkhwan. 
3) Biryani 
No one can at any point regret having biryani. Each state has its biriyani formula, but the Lucknow biriyani is undeniably most unique compared to the biriyani of any state. The Lucknow Biriyani is also known as the Awadhi Biriyani. The Lucknow biriyani is a combination of fragrant rice and various spices. There are various spices used to make this one delicacy; however, to this date, nobody knows the number of flavors utilized and what flavors are utilized by the chefs to make this biryani. The essential element of a Lucknow Biryani is the utilization of Mutton cooked in a dum pot style which implies that sauce and rice are cooked in a handi and cooked over little fire, in Desi Ghee, which makes the mutton pieces juicy and sweet-smelling, this cycle gives Awadhi biryani a particular taste. 
But now, if you are wondering where to have the best biryani? Then without any doubt, take a tour at the Idris Biryani. Established by Mohammad Idris back in 1968, Idris serves an unmatched scope of Mughlai flavors. It is situated in Jauhari Mohalla, Raja Bazar, Chowk. Idris Biryani is a top choice in the list of biryani lovers of Lucknow and is viewed as a jewel among the different shops of Chowk. If you're planning a visit, do come over here during the early hours as they run out of biryani before time, given the fame they've achieved throughout the long term.
4) Chole Bhature
If you are in Lucknow and you didn't have chole Bhature for breakfast, then I should tell you, you'll regret not having it until the end of time. The chole is made with various enhanced flavors, and it's spicy, and Bhature is a deep-fried flatbread. To flush away the spice, you can finish your meal with a glass of lassi, and you are great to begin your day. To have the best finger-licking chole Bhature go to Sardin Ji Ke Mashoor Chole Bhature. It is one of the famous places in Lucknow. The food here has a homemade cooked taste. The sitting arrangement here is not very favorable, so taking away or ordering online is favorable. 
5) Sheermal 
It is a sweet bread, origin in Persia, brought to Lucknow by the Mughals. It's 'sheer' meaning milk and 'mal' meaning rich food. It is made with warm milk and different spices. It is ideal for eating it with a cup of chai. So, whenever you are around the old lane of the famous Chowk, head towards the Sheermal Wali Gali and indulge yourself in having some of it, and you will know why it tops our list. 
Wait, the list doesn't stop here. Lucknow has to offer you some fantastic vegetarian food.
6) Netram Ajay Kumar 
Image Credits – 

twitter
This shop is more than 100 years of age in Lucknow and is the best classic confectionary here. At this moment, it is run by the fifth generation, and the nearby locals here come around for a happy feast breakfast. The puri sabzi they serve following with four various types of sabzi and the desi ghee jalebis. The thali here is very well known for its pocket-friendly price, 100 rs each. The thali consists of various food, stuffed puri, raita, dry vegetable, chole and pickle to refresh your mouth.
7) Sri Kalika Chat house 
It is one of the ancient chat houses in the city, serving from 1880. They are famous for their saunth Papdi chaat. It has a crisp Papdi along with saunth chutney, which is made with jaggery and tamarind. The crisp of the papad and the chutney spice will cause a flavour riot on your tongue.  
8) Ravi Gol Gappe 
We all have Gol Gappes in our day-to-day life, you might ask, what's unique about this? Well, this Gol Gappa Wala has been featured in all magazines and newspapers. A star in himself. A unique thing about his Gol Gapes is, he sells 16 different flavored Pani with the puri. You can even ask him to combine the Panis and give them to you. Also, another specialty of him is, even after being so famous, he hardly shows any attitude and always wears a pleasant smile on his face.
9) Makhan Malai 
The displaying of the food is very important along with its taste; you can't cross the main Chowk without acknowledging the large glass covers used to cover the Nimish. It is a yellow delicacy covered with yellow foil. It is a winter delight food; its light and delicate surface will cause you to feel like you are eating air. Gently polished and decorated with dry fruits, it's an absolute necessity to have during winters.
10) Veg kebab paratha 
You can't leave Lucknow without having kebabs. If, because you don't eat meat. Then, try the Lucknow invention, the veg kabab paratha. It's mind-blowing, filled with kebabs and a lot less expensive than the meat kebabs. Deva Food Mart sells the best Veg Kabab Paratha in the town.
The Lucknow food has a reputation and fame for people throughout the world. The food here has a one-of-a-kind personality and individuality, reflecting the wealth of Lucknow. The food here holds the historical backstory of the state. Here was the name of the few things to eat in Lucknow, but the list goes on. 
Let us know if you are craving this delicious food, and when are you heading to the City of Nawabs to taste this mouth-watering cuisine?