The state of Uttar Pradesh, known for its delectable Mughlai food and regional delicacies, offers a treasure trove of culinary treats that will tempt your taste buds. The state's capital has long been praised as a cuisine lover's delight, from the luscious kebabs of Lucknow to the flavorful biryanis of Awadh. But Uttar Pradesh's gastronomic attractions go well beyond its capital, with each area showing its distinct culinary personality.
The rich cultural legacy and historical influences of Uttar Pradesh are reflected in the local cuisine. The cuisine in the state has been influenced by all the dynasties that have ruled it. The rich and fragrant biryanis, kebabs, and curries reflect the Nawabi influence, while Mughal influences can be detected in well-known foods like the Mughlai paratha and nihari.
In this blog, we will take you on a culinary journey to explore the traditional food of Uttar Pradesh.
UP traditional food that you must try; 
Allahabadi Tehri

Banaras Gugni

Tunday Kabab

Galouti Kabab

Pasanday

Awadhi Mutton Biryani

Bhindi Salan

Dum Aloo

Baati Chokha

Bedhai

Baingan ki Longe

Nahari Kulcha
Allahabadi Tehri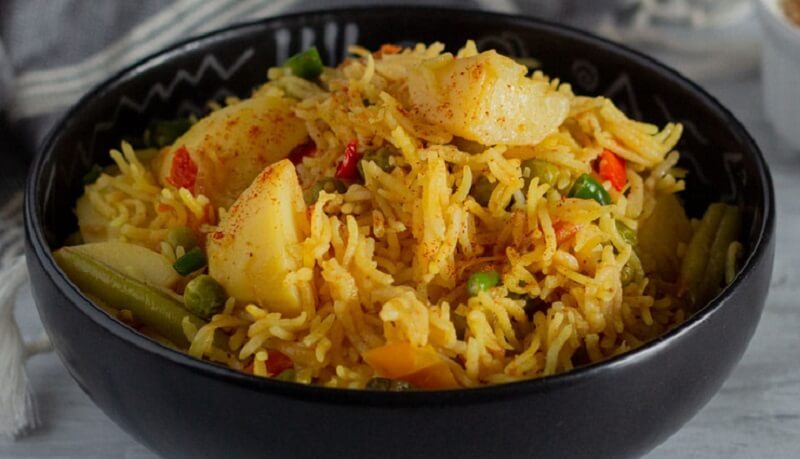 Allahabadi Tehri, the crowning glory of traditional food from Uttar Pradesh, will take your taste buds on a voyage to flavor heaven. This flavorful rice dish is a harmonious blend of savory spices, soft veggies, and perfectly cooked grains. Every mouthful will transport you to the busy streets of Allahabad, where the enticing perfume of Tehri permeates the air.
Places to eat: Kanha Shyam Restaurant-Varanasi, Kesar Da Dhaba-Agra, El Chico Restaurant-Allahabad
Banaras Gugni
Banaras Gugni is a magical concoction that transcends the boundaries of taste. Each spoonful is a burst of flavors, a dance of spices that titillate the senses. The humble chickpeas, simmered in a harmonious blend of secret spices, create a culinary masterpiece that transports you to the vibrant streets of Banaras. With every bite, you taste tradition, history, and the love of generations woven into this exquisite dish. 
Places to eat: Kashi Chaat Bhandar-Varanasi, Thatheri Bazar-Allahabad, Ram Bhandar-Varanasi
Tunday Kabab
Tunday Kabab, a mouth-watering delicacy from Uttar Pradesh, is an absolute delight for foodies. The tender and juicy meat, marinated in a unique blend of spices and herbs, is a culinary masterpiece that has stood the test of time. Legend has it that the recipe for Tunday Kabab was created by a one-armed chef, who used his exceptional culinary skills to create this delectable dish.
Places to eat: Tunday Kababi, Rahim Ki Nihari, Naushijaan Restaurant, Idris ki Biryani (all in Lucknow)
Galouti Kabab
Galouti Kabab is a melt-in-your-mouth delicacy that originated in the city of Lucknow in Uttar Pradesh. Legend has it that the kabab was created for the aging Nawab who had lost his teeth but still yearned for the taste of succulent meat. The kabab is made with finely minced meat, marinated with aromatic spices, and cooked to perfection on a hot griddle.
Places to eat: Tunday Kababi, Dastarkhwan, Royal Café, Idris Biryani (all in Lucknow)
Pasanday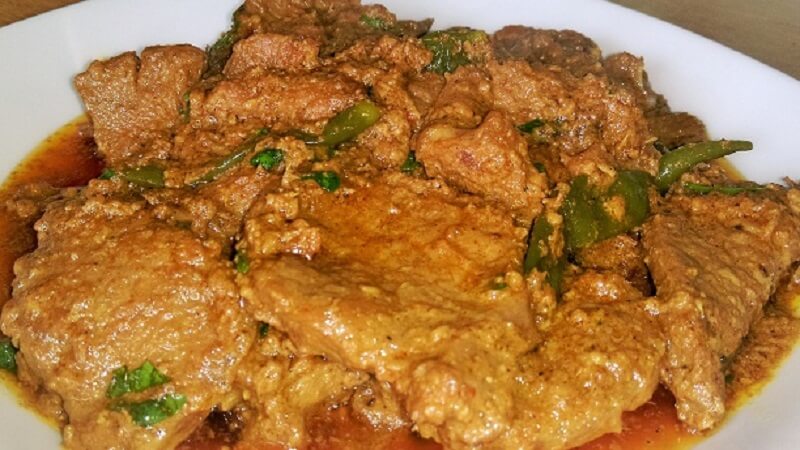 Pasanday, a succulent meat dish from Uttar Pradesh, is a true labor of love. Made with tender cuts of meat that are marinated for hours in a rich blend of spices, Pasanday is slowly cooked to perfection. The result is a melt-in-your-mouth experience that will leave you craving more.
Awadhi Mutton Biryani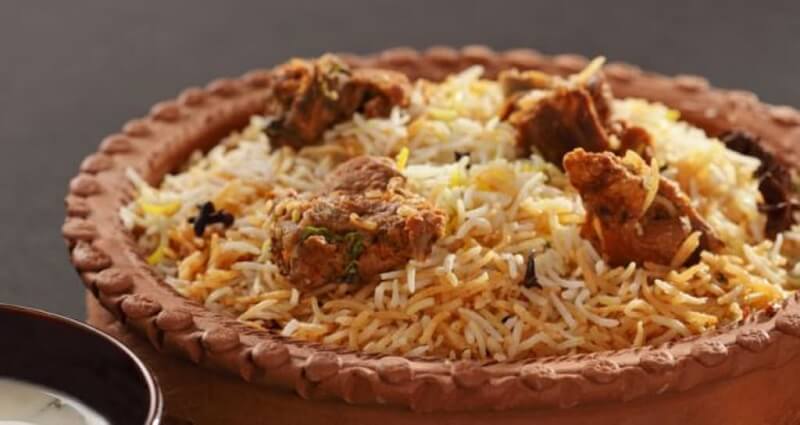 Awadhi Mutton Biryani will bring a delicious symphony to your dish, so get ready to feast. This classic dish from Uttar Pradesh will transport you to the Awadh royal palaces thanks to its flavorful basmati rice, juicy morsels of tender mutton, and an ideal medley of flavors. Your taste receptors will dance with delight as each bite is like a divine song.
Places to eat: Tunday Kababi, Idris Biryani, Dastarkhwan, Lalla Biryani, Biryani by Kilo (all in Lucknow)
Bhindi Salan
Bhindi Salan, an enticing combination of flavors, is a cherished Uttar Pradesh traditional meal. This culinary masterpiece transports you to a world of flavor because of its brilliant colors and aromatic spices. A wonderful dance to your taste is created by the soft okra that has been gently cooked in a tangy gravy. Each taste of this magical dish is a burst of savory joy that will have you hankering for more.
Places to eat: Tunday Kababi-Lucknow, Lalla's-Varanasi, Radheylal Sweets-Kanpur, Joney's Place-Allahabad
Dum Aloo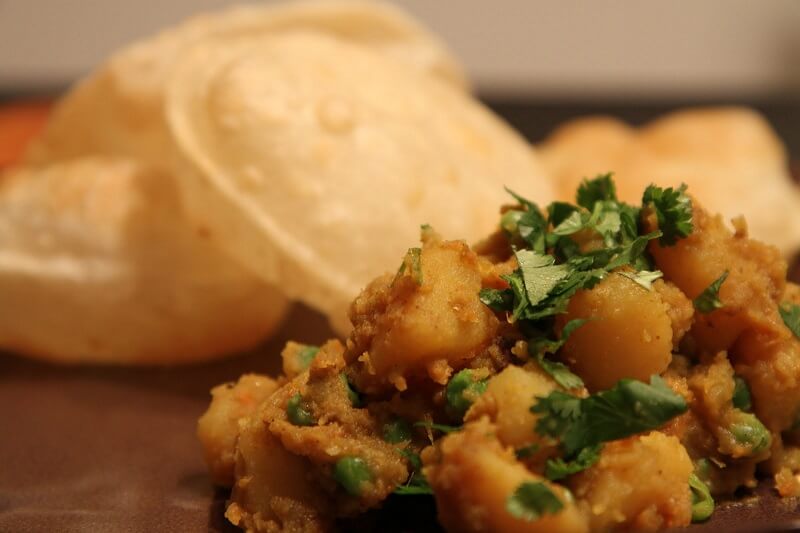 Dum Aloo, a heavenly dish from the traditional food scene of Uttar Pradesh is a dish comprised of small, boiled potatoes cooked in a rich and spicy gravy that is a perfect blend of aromatic spices and creamy yogurt. Dum Aloo is not just a dish, it's an experience that lingers on your palate and in your memories long after the last bite.
Places to eat: Royal Café-Lucknow, Sankalp Restaurant-Varanasi, Shukla Chaat House-Allahabad
Baati Chokha
Baati Chokha, the epitome of rustic charm and culinary delight, is Uttar Pradesh's beloved traditional food. Picture this: golden, crispy baatis (baked wheat dough balls) served with a dollop of ghee, paired with smoky chokha (roasted and mashed vegetables). The explosion of flavors dances on your palate, taking you on a sensory journey through the heartlands of UP.
Places to eat: Litti Chokha Junction-Varanasi, Baati Chokha Bhandar-Lucknow, Baba Ka Dhaba-Allahabad
Bedhai
Bedhai, the savory breakfast dish of Uttar Pradesh, is a burst of flavors in every bite. Made with urad dal, spices, and served with a side of spicy potato curry and tangy tamarind chutney, this dish is a favorite among locals and tourists alike. The crispy texture of the bedhai, combined with the rich aroma of the spices, creates a symphony of flavors that will tantalize your taste buds.
Places to eat: Ram Asrey-Lucknow, Radhey Shyam Bedhai Wale-Agra, Shiv Mishthan Bhandar-Varanasi
Baingan ki Longey
Baingan ki Longey, also known as Baingan ki Lonje in some parts of Uttar Pradesh, is a traditional vegetarian dish that is popular among locals and tourists alike. This delicacy is made using eggplants that are slit and stuffed with a spicy mixture of onions, tomatoes, and a blend of aromatic spices. The Longey is then slowly cooked in a rich gravy until the eggplant is tender and the flavors have melded together.
Places to eat: Sardarji's Poori Sabzi-Varanasi, Dehati-Agra, Radhey Lal Ki Rasoi-Mathura
Nihari Kulche
Indulge your senses in the heavenly delight of Nihari Kulche, Uttar Pradesh's quintessential traditional food. As you take a bite, the tender meat melts in your mouth, releasing a burst of aromatic spices that dance on your taste buds. The flaky, buttery kulche serves as the perfect companion, soaking up the rich and flavorful gravy. This exquisite dish is a true testament to the culinary artistry of Uttar Pradesh.
Places to eat: Tunday Kababi-Lucknow, Rahim's-Old-Lucknow, Al-Jawahar-Agra
Through this journey, we have uncovered the hidden gems and iconic eateries that showcase the best of Uttar Pradesh's traditional food. From the bustling streets of Lucknow to the historical lanes of Agra, each place has its own unique flavors and specialties to offer. So, the next time you find yourself in Uttar Pradesh, don't miss the opportunity to immerse yourself in this gastronomic paradise.