Imagine wandering through the bustling streets of Lucknow, the city of the Nawabs, where history and culinary delights intertwine. The aroma of fragrant spices fills the air, leading you to vibrant street food stalls that have become synonymous with this foodie paradise. Lucknow's street food scene is a gastronomic journey that beckons both locals and visitors alike. In this blog, we will take you on a tantalizing adventure, exploring the irresistible street food treasures that make Lucknow a culinary haven.
Delicious and famous street food in Lucknow;
Kababs

Malai Makhan

Kulfi Faluda

Imarti Rabdi

Kulche Nihari

Sheermal

Malai Paan

Dahi Tikki

Basket Chaat

Veg Kabab Parantha
Kababs
Indulge in the tantalizing flavors of Lucknow's legendary kababs, an essential part of the city's street food extravaganza. From the succulent Kakori kababs to the sizzling Seekh kababs and the melt-in-your-mouth Galouti kababs, each bite is a burst of aromatic bliss. These culinary gems, cooked with precision and seasoned with the finest spices, transport you to a world of culinary ecstasy. Lucknow's kababs are the epitome of Lucknow's street food perfection.
Places to eat: Tunday Kababi, Galawati Kabab Corner, Raheem's, Dastarkhwan
Malai Makhan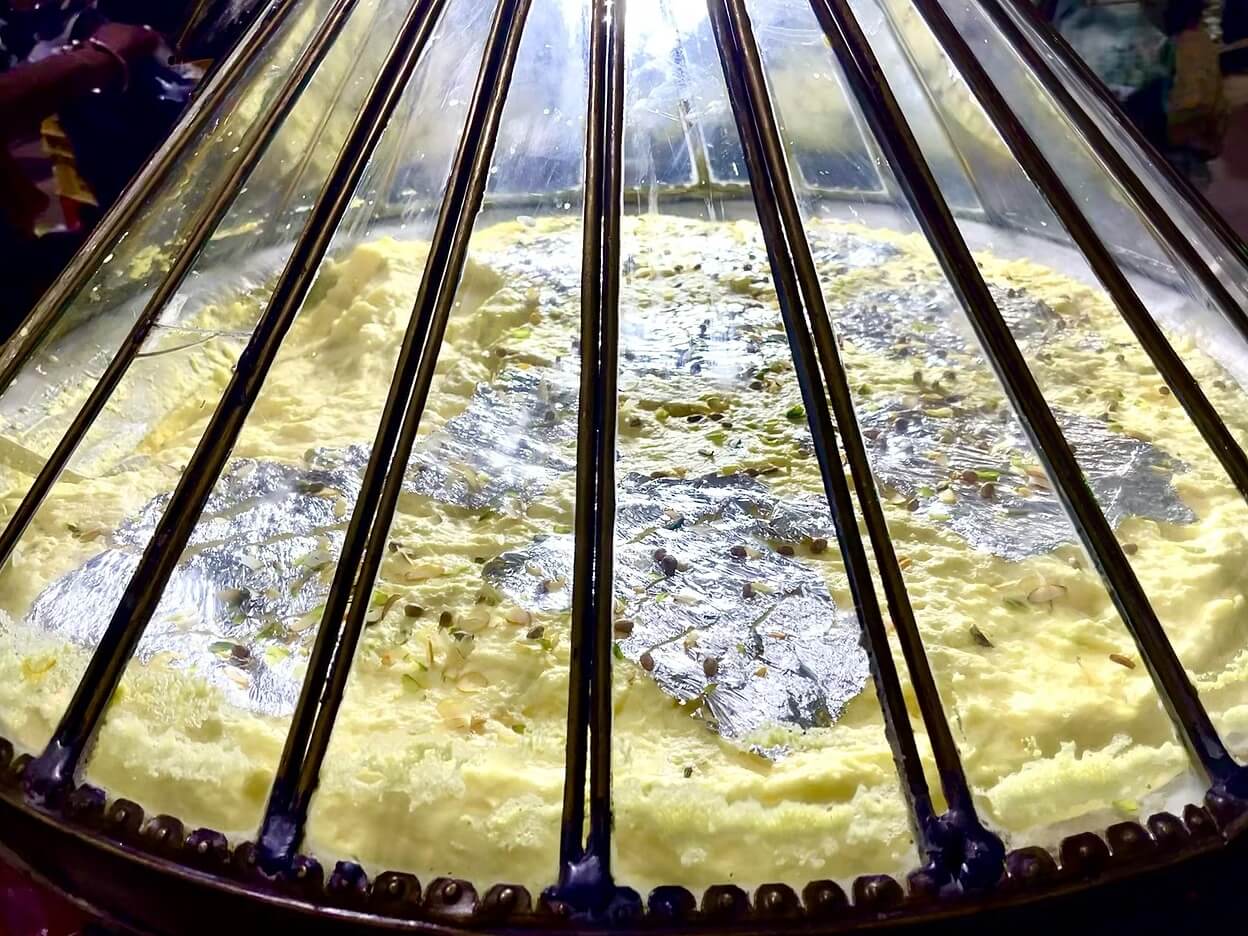 Malai Makhan, a heavenly dessert, and the best street food in Lucknow, offers a range of delightful variations. The classic Malai Makhan showcases its rich and creamy texture, while the Mango Malai Makhan infuses fruity goodness into every spoonful. For those seeking a nutty twist, the Pista Malai Makhan tantalizes with its crunchy pistachio topping. Indulge in the delectable Malai Makhan flavors and experience the divine pleasure that makes it the most famous street food in Lucknow.
Places to eat: Chowk Market, Aminabad, Hazratganj, Gomti Nagar, Alambagh
Kulfi Faluda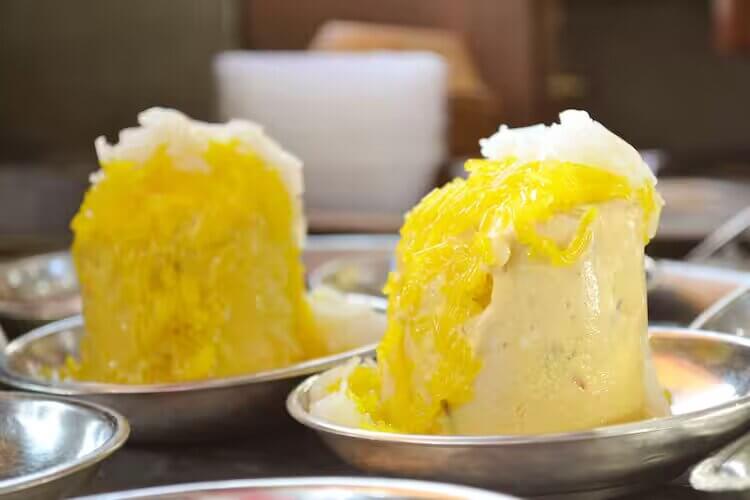 Lucknow's street food scene is incomplete without mentioning the heavenly indulgence of Kulfi Faluda. This iconic dessert combines the rich and creamy texture of kulfi (Indian ice cream) with the delightful crunch of faluda (vermicelli noodles). Served in a glass, it's adorned with rose syrup, nuts, and sometimes even fresh fruits. Each spoonful of this sweet delight takes you on a journey of flavors and leaves you craving for more. 
Places to eat: Raja Ki Kulfi, Prakash Kulfi, Sharma Ji Kulfi Bhandar, Sainth ki Kulfi
Imarti Rabdi
Lucknow's street food is renowned for its delectable delights, and Imarti Rabdi shines as a star among them. This heavenly combination features deep-fried, syrup-soaked Imarti, a traditional Indian sweet, served with a generous dollop of rich and creamy Rabdi. The crispy texture of Imarti paired with the lusciousness of Rabdi creates a symphony of flavors that will transport your taste buds to a sweet paradise.
Places to eat: Radhe Lal Imarti Wale, Laxmi Mishthan Bhandar, Shukla Ji Ki Imarti
Kulche Nihari
Kulche Nihari, the best street food in Lucknow, boasts a delectable array of varieties that leave food enthusiasts craving more. From the classic Mutton Kulche Nihari, with its tender meat and flavorful gravy, to the aromatic Chicken Kulche Nihari, every bite is a burst of rich flavors. Vegetarians can delight in the delectable Soya Kulche Nihari, offering a delightful twist. With its heart and soul-satisfying taste, Kulche Nihari reigns supreme as the best street food in Lucknow.
Places to eat: Rahim Ki Nihari, Naushijaan Restaurant, Bismillah Kulche Nihari
Sheermal
Sheermal, the delectable saffron-infused bread, is one of Lucknow's famous street food treasures. This sweet, soft, and slightly crispy delight comes in various mouthwatering variations. From the traditional plain Sheermal to the flavorsome Zafrani Sheermal infused with cardamom and nuts, Lucknow's Sheermal offerings are simply irresistible. Each bite unveils a symphony of flavors that beautifully complements the city's rich culinary heritage. 
Places to eat: Tunday Kababi, Rahim's Kulcha Nahari, Lucknow Wale
Malai Paan
Malai Paan, a delightful creation of Lucknawi cuisine, seduces taste buds with its creamy texture and tantalizing flavors. The luscious blend of sweetened condensed milk, saffron, rose petals, and dry fruits enveloped in a betel leaf creates a heavenly experience. With each bite, the indulgent combination of richness and freshness transports you to a world of culinary bliss.
Places to eat: Hazratganj, Chowk, Aminabad, Gomti Nagar
Dahi Tikki
Dahi Tikki, the king of street food in Lucknow, offers tantalizing flavors. This delectable treat includes crispy potato tikkis that have been liberally sprinkled with creamy yogurt, tart chutneys, and flavorful spices. The tikki's crunch and the yogurt's velvety smoothness are just two of the sensations and flavors revealed in each bite. Bring your taste senses to a gastronomic paradise with this culinary masterpiece.
Places to eat: Royal Café, Shukla Chaat House, Jain Chaat House, Prakash Ki Mashoor Kulfi
Basket Chaat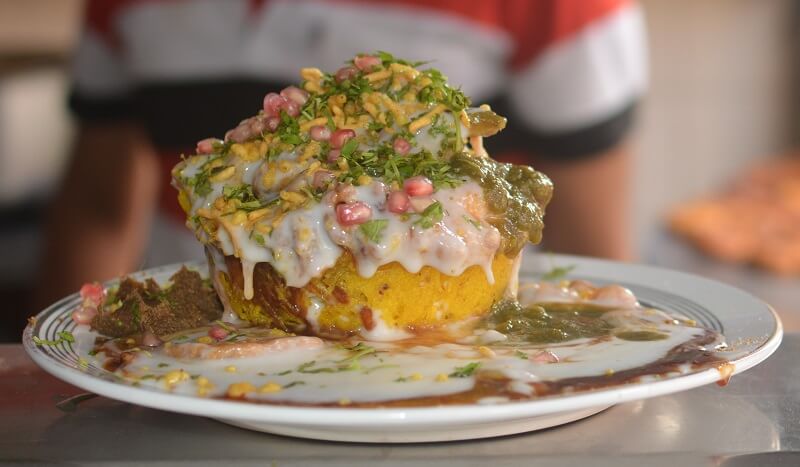 The wild child of street cuisine, Basket Chaat, seduces your taste senses with its mouthwatering variety. Crispy potato baskets topped with sour yogurt, chutney, spicy chickpeas, and a sprinkle of secret ingredients produce a flavor explosion. Its playful presentation adds a whimsical touch and charms you, making you want more. The Basket Chaat, Lucknow's culinary crown jewel, is a must-try for gastronomic explorers seeking eccentricity on their plates.
Places to eat: K.K. Caterers, Jain Chaat Corner, Radheylal Sweets, Rattilal's
Veg Kabab Parantha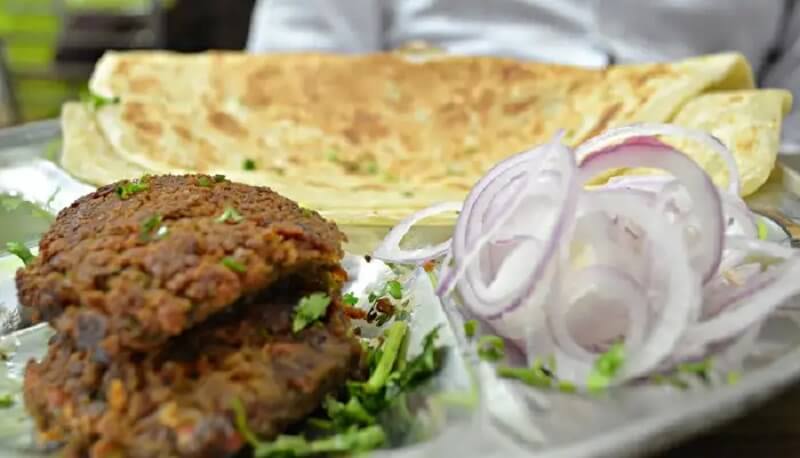 In a delightful turn of events, the Lucknow Veg Kabab Parantha tells tales of culinary magic with each bite. A harmonious combination of flavors develops as the savory kababs dance beautifully inside flaky, golden paranthas. A unique culinary experience that will take your taste buds to a world of gourmet enchantment has been created by the quirky combination of tradition and innovation that is this Lucknow's street food jewel.
Places to eat: Pappu Ki Dukan, Tunday Kababi, Shukla Tea Stall
It's like setting out on a feast expedition to discover Lucknow's street food. This metropolis tempts your taste senses and leaves you wanting more with everything from spicily spiced kebabs to sweet treats. Prepare yourself to enjoy Lucknow's thriving street food scene!