Uttar Pradesh, The heartland of India, undoubtedly bounds millions of hearts with a variety of authentic cuisine. From Awadhi cuisine (slow–cooking process or Dum ) to the Mughlai cuisine ( mostly grilled tandoor ), the diversity of dishes blends the taste buds with various emotions and connects you with the place. 
In this blog, we are going to know about the famous food of Uttar Pradesh. 
So, let's check out these plates containing the main food of Uttar Pradesh : 
1) Batti Chokha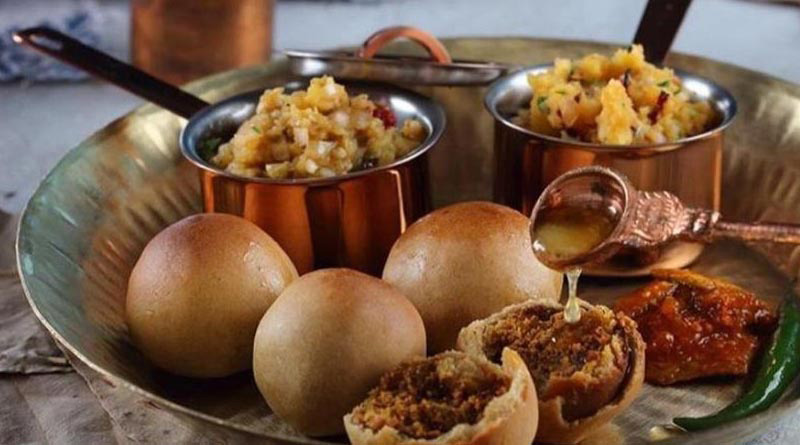 A complete meal has an authentic flavour of Indian spices. It is a delicious lunch and dinner recipe made of Batti – a stuffed wheat dough ball and Chokha – roasted eggplant Awadh ( baingan/brinjal ) and mashed potatoes.  
The dish is the most famous food of Uttar Pradesh and is consumed by the majority. Unlike its name, the making of the dish is quite effortless as it doesn't require too many ingredients and utensils or appliances. 
Batti chokha emerged from the era of Chandragupta Maurya, where his soldiers came up with this recipe because they couldn't carry much of the items to the conflict. 
2) Tehri 
The famous dish of Uttar Pradesh lies under the Awadhi Cuisine, comprising of spices added to plain cooked rice for flavour and color. Adding different veggies to the Tehri turns it into a Pulao. The making of Tehri is quite similar to that of Biryani. 
 The Aromatic meal is also known as Veg Pulao or Veg Biryani. You can also serve it with curd or chutney to make it more interesting and enjoyable. 
The dish is an evolved version of plain rice and was originated by experimenting with the leftover rice. Tehri is highly served as a lunch recipe and in a lunch box for kids. 
3) Galouti kebabs 
A mouth-watering, tender and flavorsome dish resides in Lucknow and falls under the Mughlai Cuisine. Galouti kebabs are the most famous kebabs from Uttar Pradesh. 
Galouti means soft, and these are the perfect soft delicacy made up of minced mutton marinated in spices and are grilled or pan-fried. 
The kebabs were invented by the toothless Nawab of Lucknow, who was not ready to give up the pleasure of kebabs. And hence, we got these melt-in-mouth Galouti or Galawati kebabs. 
4) Fara
India has its kind of momos/dumplings amongst the popular dish of Uttar Pradesh and is made during special and auspicious occasions. 
The dish has a similar making process as that of momos but has its authenticity. The stuffing, which is the key element of the recipe, can be of your favorite veggies or dal, which is wrapped inside the thin sheet of wheat dough that leaves you stunned for the day. 
The Faras is prepared to fulfill proper nutrition requirements and give Dal and wheat a new twist. 
5) Sheermal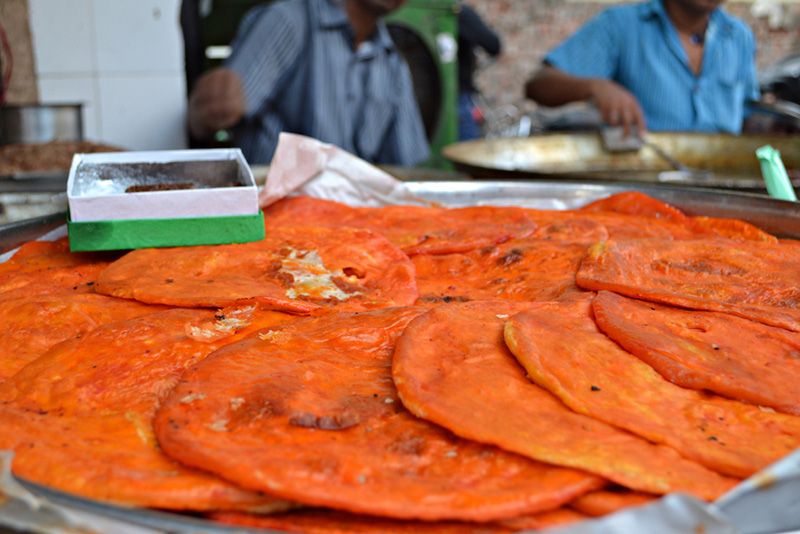 A slightly sweet, saffron-flavored and orange-colored Naans create the Mughal tradition, prepared in tandoor. Sheermal is a type of flatbread where Sheer means Milk and has some saffron to give it a royal touch which makes it different from other Naans. 
These Naans from Uttar Pradesh are standard as they belong to the Mughal family, where Nawabs enjoyed it with honey and butter. 
The Royal delicacy has made its way through Iran, Afghanistan and Pakistan and is highly enjoyed in Uttar Pradesh, India ( mostly by Muslims ).
6) Banarasi Paan 
We all know about the famous Bollywood song representing this famous after-dinner treat from Varanasi, Uttar Pradesh. 
खइके पान बनारस वाला,
खुल जाए बंद अकल का ताला
The Paan is exactly as same as the song. A sweet, minty, rosy, fruity flavor mixed well in a single leaf creates bombardment in your mouth gives you a cool and fresh after taste. The Banarasi Paan is iconized by the famous Bollywood star Mr. Amitabh Bachhan.
The paan is so favorite part of Uttar Pradesh that people from various cities and countries visit here to taste. 
Paan in Banaras is a symbol of love and happiness. People in Banaras serve paan to show the gesture of greeting and Khatirdaari ( hospitality ). 
NOTE-  The Banarasi Paan doesn't contain tobacco, limestone ( chuna ), Betelnut ( supari ), catechu (kathha).
7) Agra ka Petha 
The sweet, translucent candy belongs to the city of Taj Mahal and is the most popular sweet dish in Uttar Pradesh. Whether it is the greeting of the guests or the desire to eat something sweet after dinner, the petha fits everywhere. 
The amazing fact about this petha is that it is made of pumpkin and sugar.
8) Imarti 
Image Credits – pulses
People may get confused between Imarti and Jalebi, but only Uttar Pradesh knows how Imartis are important to them. You can even call it a king of all the desserts from UP. 
The dish isn't a part of Mughal and Awadhi cuisine but has high names in the street of Uttar Pradesh. 
Imartis are made from lentils batter, fried till it turns orange-red color and soaked in cardamom and rose flavored sugar syrup. 
This beautiful, sweet delicacy looks rich, tastes rich, feels rich. So, try out this dish in your breakfast whenever you visit Uttar Pradesh. 
9) Bedmi Poori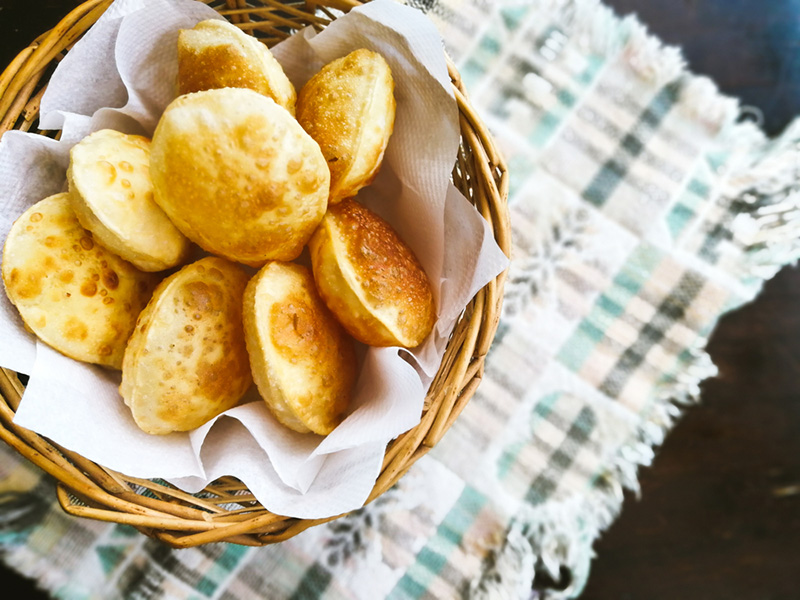 Bedmi Poori is the traditional Indian style bread stuffed with Dal. 
The Pooris are highly enjoyed in the Braj region of Uttar Pradesh. It is served with hot and piping potato curry (Aloo ki sabzi or Dupkidar Aloo) that tastes divine.
The dish is the famous street food in Uttar Pradesh and is mainly consumed for breakfast and lunch. 
The thickness of the deep-fried bedmi pooris makes it a filling meal and has roughly the same fare for a long time which attracts the customers.
10) Rewari 
Are you unfamiliar with the term? To make it easy for you, here is a short description of the Rewari's. 
Rewari is a small rock candy made of sesame seeds and a combination of jaggery/sugar and ghee. 
It is an instant sweet recipe and is available in each house of Uttar Pradesh. 
The sweets are so tempting that they will engage you to have more and more. It is so popular in and out of the country that it is even exported abroad. 
The Rewari's are usually consumed during the winters as a dessert to avoid cold, and it also helps to bring warmness inside your body.
Isn't it a combination of a healthy and tasty sweet dish?
Though these dishes are the authentic food of Uttar Pradesh, they are not confined to a particular place. We can enjoy the royal tastes of Awadh and Mughal globally. So, Whenever you visit Uttar Pradesh, do give it a try to these dishes. 
Let us know which food you want to try?