From the legendary Amritsari kulchas, crispy and oozing with sinful fillings, to the irresistible chole bhature, a match made in culinary heaven, Punjab has a treasure trove of mouthwatering delights waiting to be devoured. Get ready to dive into the tangy world of golgappas, the sizzling tandoori treats, and the aromatic masala-laden chaats that will have you saying, "Balle Balle!"
So, grab a napkin, loosen those belts, and join us as we uncover the lip-smacking wonders of Punjabi Street food. Get ready for a food adventure that will leave you craving more, and perhaps even dreaming of dancing with a plate of butter chicken. Let's get our taste buds tingling and our appetites roaring because Punjab's special food game is on fire!
Street food you must try in Punjabi; 
Butter Chicken
Butter Chicken
Tandoori Chicken
Chhole Bhature
Paranthe
Gol Gappe
Aloo Chaat
Pakoras
Amritsari Naan
Samosa
Amritsari Ladoo
Lassi
Rajma Chawal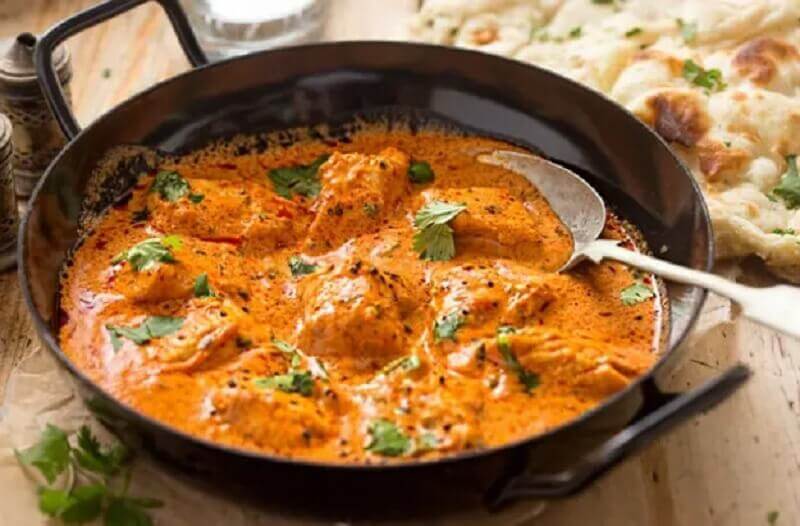 Prepare to have your taste buds serenaded by the most melodious dish to grace the streets of Punjab – Butter Chicken! Imagine succulent pieces of tender chicken, marinated in a symphony of spices, and lovingly simmered in a luscious pool of creamy, buttery goodness. Each bite is like a culinary hug, a flavor explosion that will make your heart do a happy dance.
Places to eat: Beera Chicken House-Amritsar, Kesar Da Dhaba-Amritsar, Punjab Grill-Chandigarh, Gurdas Ram Jalebi Wale-Ludhiana, Bade Bhai Ka Brothers Dhaba-Jalandhar

Tandoori Chicken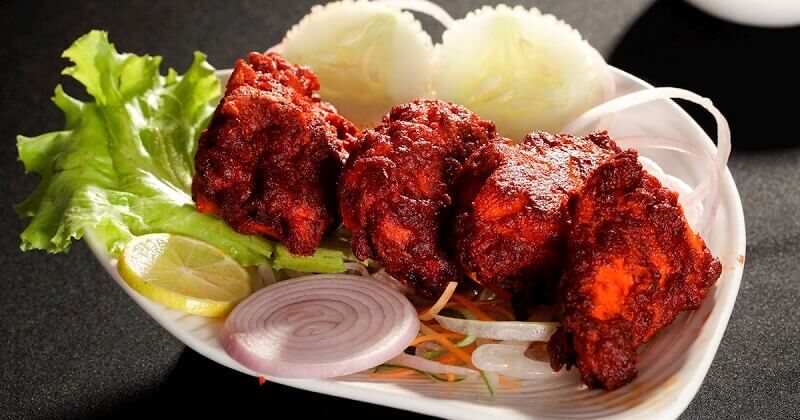 Sink your teeth into a flavor-packed legend of Punjabi Street food: Tandoori Chicken. Marinated in a tantalizing blend of spices, and grilled to perfection in a traditional tandoor oven, this fiery delicacy boasts tender meat with a smoky char. It's a culinary experience that will leave you craving more with every juicy bite.
Places to eat: Baba Chicken-Ludhiana, Gopal's Tandoori Chicken-Jalandhar, Bittu Meat Wala-Patiala, Haveli-Chandigarh
Chhole Bhature
Indulge in the culinary masterpiece that is Chhole Bhature, Punjab's special street food gem. Picture fluffy, deep-fried bread paired with spicy and tangy chickpea curry. The explosion of flavors, the heavenly combination, and the sheer satisfaction it brings will make you an instant fan. A must-try delight for every food lover!
Places to eat: Bharawan Da Dhaba-Amritsar, Gian Chand Lassi Wale-Patiala, Makhan Fish & Chicken Corner-Amritsar, Bittu Tikki Wala-Jalandhar

Paranthe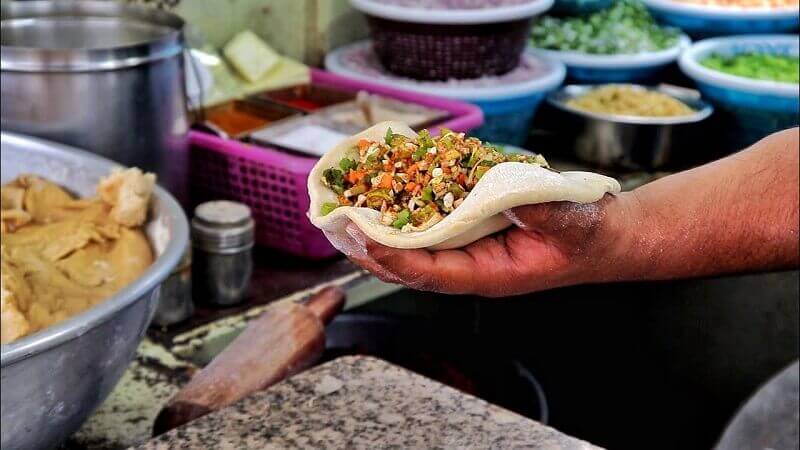 Paranthe, the undisputed king of Punjabi Street food, demands your immediate attention. Crispy, golden, and stuffed with a myriad of fillings like potato, paneer, or even chocolate, these heavenly delights redefine deliciousness. Served with tangy chutneys, pickles, and a side of nostalgia, parantha is an absolute must-try in Punjab's special food.
Places to eat: Parantha Hut-Jalandhar, Prantha Junction-Patiala, Paranthe da Garh-Mohali, Dhingra Parantha Shop-Ludhiana, Gali Paranthe Wali-Chandigarh

Gol Gappe
Hold on to your taste buds, because we're about to introduce you to the superstar of Punjabi Street food: Gol Gappe! These crispy, tangy, and explosive flavor bombs are like a party in your mouth. One bite, and you'll be hooked on this spicy, saucy, and utterly delightful culinary delight. Don't miss the Gol Gappe extravaganza!
Places to eat: Old Delhi Gol Gappe Wala-Amritsar, Brijwasi Pani Puri-Ludhiana, Ashok Chat Bhandar-Jalandhar, Ganpati Bikaneri-Bathinda, Chatar Patar-Jalandhar

Aloo Chaat
Aloo Chaat, the superstar of Punjab's special street food scene, is an irresistible blend of crispy potato cubes, tangy chutneys, and zesty spices. One bite of this flavorful delight will transport you to foodie heaven. With every crunchy mouthful, Aloo Chaat wins hearts, one spud at a time!
Places to eat: Sharma Chaat Bhandar-Jalandhar, Lovely Chaat Corner-Amritsar, Chawla Sweets-Chandigarh, Bansal Sweets-Amritsar

Pakoras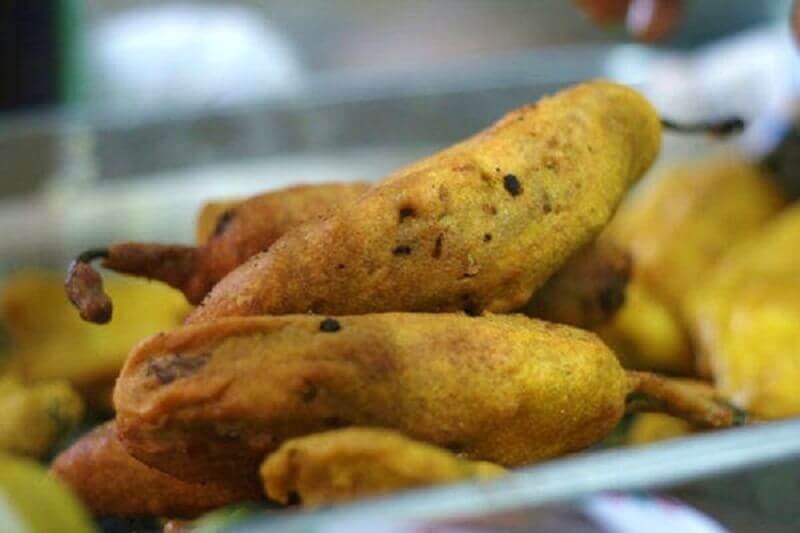 Pakoras, the crispy, golden wonders of Punjabi Street food, are truly the rock stars of snacking! With their sizzling hot dance in the frying pan and their irresistible mix of veggies and spices, these flavor-packed fritters will have you falling head over heels in love with Punjabi cuisine.
Places to eat: Gurdas Ram Jalebi Wale-Amritsar, Amritsari Kulcha Wala-Patiala, Lucky Vaishno Dhaba-Amritsar, Shudh Dhaba-Ludhiana

Amritsari Naan
Get ready to have your taste buds do the bhangra because Amritsari Naan is here to steal the show! This fluffy, buttery delight is like a warm hug for your mouth, stuffed with a variety of fillings that will make you go "Naan-stop" until you've devoured them all! Pure Punjabi perfection!
Places to eat: Surjit Food Plaza-Ludhiana, Bharawan Da Dhaba-Amritsar, Kesar Da Dhaba-Amritsar, Beera Chicken Corner-Amritsar

Samosa
The mighty samosa, a Punjabi Street food legend, is a crispy delight that tickles your taste buds and warms your heart. With its spicy potato filling and a golden crust, it's the ultimate snack companion, bringing joy to every crunchy bite. Simply irresistible!
Places to eat: Sardarji's Samose-Chandigarh, All India Famous Amritsari Kulcha-Ludhiana, Giani Tea Stall-Jalandhar, Sharmaji Samosa-Patiala
Amritsari Ladoo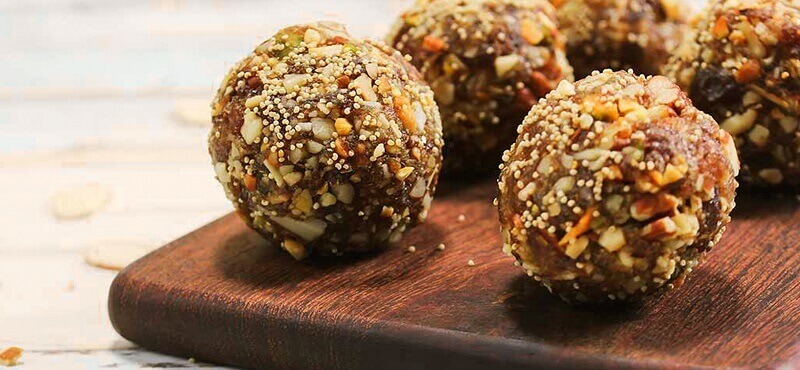 Move over, boring desserts! Amritsari Ladoo is here to steal the show and win your sweet tooth heart. These delightful spheres of pure joy are the epitome of Punjabi Street food perfection. With their melt-in-your-mouth texture and irresistible sweetness, they'll have you doing a happy Ladoo dance in no time!
Places to eat: Gurdas Ram Jalebi Wale-Ludhiana, Lovely Sweets-Patiala, Kanha Sweets-Amritsar, Gian Chand Ladoo Wale-Jalandhar, Kesar Da Dhaba-Amritsar
Lassi
Move over superheroes, there's a new power drink in town! Lassi, the creamy, frothy, and utterly refreshing delight, is the true hero of Punjabi Street food. Whether you're craving sweet, salty, or fruity, this yogurt-based potion will rescue you from thirst and transport you to a world of pure deliciousness.
Places to eat: Pakhija Lassi-Jalandhar, Shri Krishna Lassi Corner-Ludhiana, Ahuja Lassi-Ludhiana, Baba Lassi-Patiala, Shri Krishna Lassi Corner-Ludhiana
Rajma Chawal
Rajma Chawal, the mighty duo that brings joy to every Punjabi soul! It's a match made in foodie heaven – the creamy, protein-packed rajma (kidney beans) and fluffy rice, create a symphony of flavors in each bite. One spoonful and you'll be doing the happy foodie dance!
Places to eat: Bhai Kulwant Singh Kulchian Wale-Amritsar, Chawla's-Mohali, Gurdas Ram Jalebi Wale-Patiala, Bharawan Da Dhaba-Amritsar
So, there you have it, folks! Punjab is the land of spicy delights and mouthwatering street food. Whether it's the sizzling chole bhature or the tangy golgappas, Punjabi Street food will surely tickle your taste buds and leave you craving more! Remember, life is too short to miss out on Punjabi Street food fiestas! Happy eating!