Apart from being rejuvenating, the old memories, pictures, and photos in this era have a lot to do with your personality, popularity, and steadfast love likes. These days, people love to get recognized. They believe in showing up everything related to their life on social media, either in videos or pictures, to obtain fame or get significant attention. 
This blog will reveal the ten most beautiful places in India for all the photogenic personalities. These Instagram-worthy places will help you attain good likes on your photos leading to a boost in your Instagram followers. 
So let's go through the best places for a photoshoot in India;
1) Hawa Mahal 
Are you in search of beautiful places in India for photos? Well, you are at the right place. Hawa Mahal is a perfect place for you to click Instagram-worthy pictures. Here you can get yourself pictured in a vintage, classy and dignified persona.  
Give a go to this place, and I can bet you on the upliftment of your Instagram status.
2) Tomb of I'timad-ud-Daulah
This Mughal architectural piece is from the most beautiful city in India. Agra has many more such places to give you a perfect click, but the beauty of this mausoleum has exceptional detailing. 
You can get a perfectly random shot by dressing up in a white Anarkali suit and pairing it with heavy Silver or oxidized jewelry with minimal dewy make-up. 
This place is even perfect for the pre-wedding photoshoot.
3) Gateway of India
One of the most significant monuments in India is also a picture-perfect place. 
This place doesn't demand much to be dressed or create an edgy look; you can go for a casual, loose, and fun-looking get-up to get clicked. To avoid crowds, you have to visit early morning in the Gateway of India. 
4) Hampi ruins

Ancient architectural buildings, rock-cut temples, heritage sites could be better than capturing this beautiful place in India. 
A magnificent city of ruins located beside the Tungabhadra river has various spots for eye-catching snaps. If you are traveling to India for the first time, Hampi deserves to be on your list. 
5) Mysuru palace
Listing out the best photogenic places in India and not even discussing Mysuru? This is not just done. Mysuru palace is one of the oldest Palaces in India. Built-in Indian- Sarsenic style that gives it imperial deem that automatically has the potential to turn your picture into an illustrious photo. 
6) Qutub Minar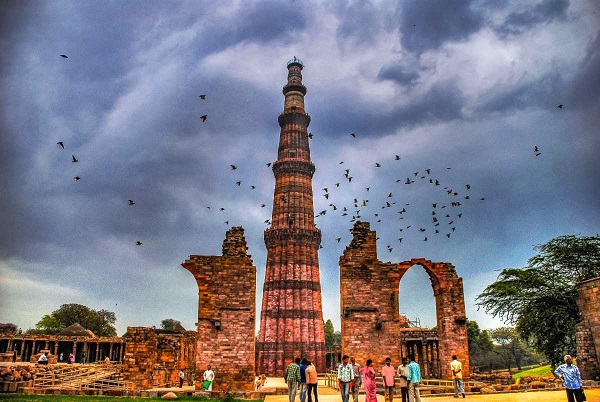 Looking forward to an instagrammable place in Delhi? Did you ever think of Qutub Minar? If not, then here it is. Qutub Minar is one of the seven wonders of the world. This victory tower has a beautiful garden, small architectural buildings, and beautiful rustic pillars to get multiple mesmerizing pictures. 
The tower is so gripping in itself and attracts tourists from various countries to capture its beauty. 
7) Golden Temple
This place is a must. We all know how popular this place is, and the photos clicked near the lake too. You can call it an iconic or signature posture of snapping a picture in the Golden temple. 
Serenity, warmth, and affection are the best part of this temple. While searching out in google, "photos of tourist places in India," one could easily find the Golden temple in the list. 
8) Kashi Art Cafe 
Let's mention a few cafes on our list for people who don't want much royalty or drama in their pictures but subtle, stylish and elegant clicks. 
Kashi Art café in Kochi, Kerala is one of them. It has beautiful wooden seating and is a built-in green old street locality style. The cafe is giving International vibes and is perfect for taking photos in India. 
9) Brewbakers 
Brewbakers is another Insta worthy café located in Guwahati. It is a favorite bistro, and the scene has comfortable air, which makes it a lovely spot to spend time with companions; fortunately, there is no time restriction. They serve Indian, Italian, Chinese, Thai, and British cooking. The estimating isn't very pocket-accommodating. However, the segment size is certainly not too bad. Bewkes likewise has a committed smoking zone.  
10) Cappuccino blast mall avenue 

You'll have a wow moment when you visit this place. The colorful decor, pop art adorning the walls, and bamboo plants in the background will give you a kickass vibe. Oh, and not to forget, you will love the pretty pictures that you will get clicked here. 
These were the few best places in India where you can click the best pictures that you'll love. There are many more places that you could look for. So, visit these places, click a snap and upload it. 
Let us know which place you are thinking to visit and capture a glimpse of it on your Instagram feed?