Whenever we hear West Bengal's name, the first thing that pop-ups in our mind are 'Ami Tomake Bhalobashi' or 'Roshogolla' or 'Mach Bhatt'. Well, the state has a lot to offer other than just Mach Bhatt and sweets. West Bengal's famous foods are also praised in some of the foreign countries. 
In respect of both vegetarian and non-vegetarian, the state has much variety of foods to offer. The Bengali cuisine is the only cuisine with a multi-course purpose, similar to french cuisine. 
The Bengali people are foodies, and instead of all the foods being served together, we Bengali's want our food to be served course-wise. 
There is a lot to explore in respect of food when in West Bengal. From street foods to Mughlai and a wide range of sweets and confectionaries. Here is a list of famous food from West Bengal. 
1) Aloo Potol Posto: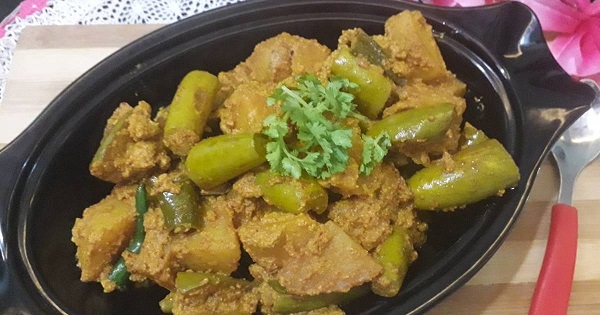 Posto means poppy seeds, and it is something Bengalis can die for. Why wouldn't they? It makes the whole dish so much spicier and tasty. The food is made with Posto or poppy seeds and aloo with some pointed gourd. The garnishing is done with red chilies. To add more spice, some people add coconut to it. This is one of the classic dishes of Bengal.
2) Tangra Macher Jhol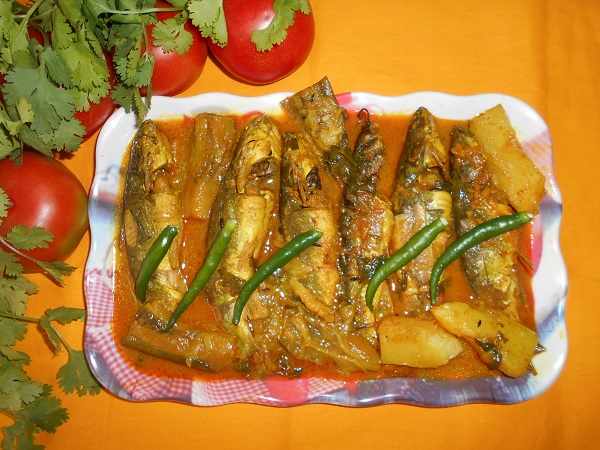 We all know how much Bengalis love fishes, and Bengal has a rich source of freshwater that accelerates the saltwater fishes. Being fish lovers, Bengalis keep trying different types of fish. Tangra Mach is a catfish prepared with ground spices and light curry. It is preferably eaten during the summer as it doesn't involve too many herbs, but that doesn't compromise on the taste either.
3) Cholar Dal
You will find this in every household or shop. It is preferably eaten with Lucchi during the festive season, but Bengalis need a reason to indulge their hands in this delicacy. The main ingredient in this dish is the Chola, made with the famous spices of Bengal. The taste of this dish is both sweet and spicy, leaving your tongue on a flavour war. 
4) Lau Ghonto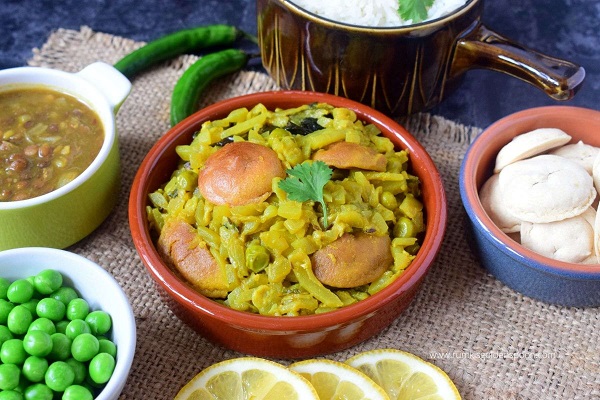 It is one of the favorite dishes of every Bengali. It is made with bottle gourd, dal and some spices. The dish is a bonus for your stomach because it doesn't include many heavy herbs but is tasty. So, after a long tiring day, have this dish with some hot rice and give your stomach a treat.
5) Ilish Macher Jhol
If you don't know what Ilish Mach means to a Bengali, then let me tell you, it means everything to us. Bengalis die for Ilish Mach. This fish is mainly available during the rainy season. It is a tasty, substantial smelled dish, which you can have with rice. It is made with some rich spices, nigella seeds. It has a curry-based texture, which overall makes it a perfect food during the monsoon. It is one of the famous food of West Bengal.
6) Shukto
You may think Bengalis only know how to eat/cook fish. That isn't the case; we know how to cook our vegetables as well. Want an example? Shukto is one. It is a mixture of different vegetables, from brinjals, potatoes, bitter gourd and any vegetable you name it, and you can have it in Shukto. It is served as a first course during a meal. It is made with different grounded spices and milk to make a thick, flavorful gravy.
7) Mochar Ghonto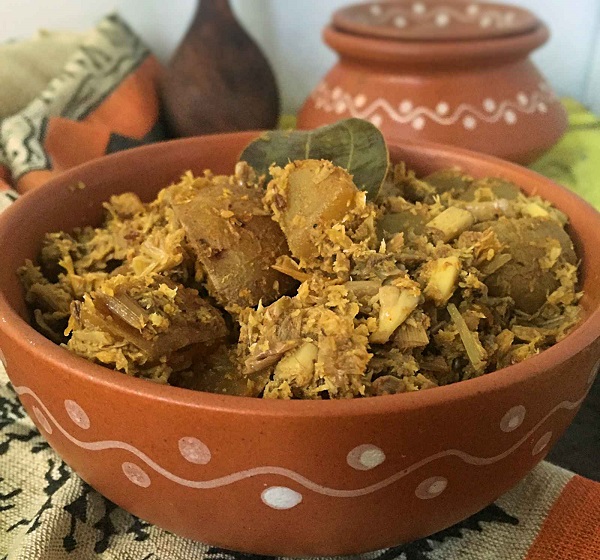 This dish is first prepared with some coconut milk and crushed coconut, and potato. Mocha is the banana flower. It is later cooked with cumin and bay leaves. The dish has both sweetness and spice in it. It proves we Bengalis are more than just fish and meat. It is a must-try if you are in West Bengal.
8) Daab Chingri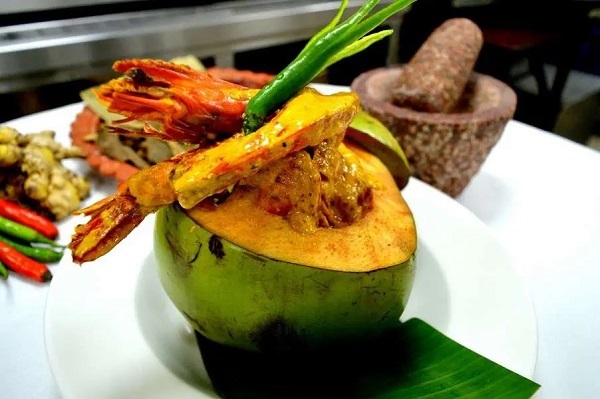 Want to try something new and innovative? Then, try the famous Daab Chingri here. It is cooked in tender coconut and mustard paste. It is served in the Daab itself, which gives a different authentic feeling to it.
9) Bhetki Macher Paturi
If you are a fish lover, then you should try this dish. It is one of the famous dishes in West Bengal. The fish is slowly cooked in the paste of mustard seed and green chili wrapped in banana leaf. To get the traditional flavour, hire the Ranar Thakur (professional Bengali chef) or head towards 6 Ballygaunge Place. 
10) Patishopta
This is a homemade sweet dish. The dish is made by putting some filling in it, made with coconut and khoya and then rolled on powdered rice. No matter if you have a sweet tooth or not, you should not miss this dish. 
So, here we have listed some of the best dishes in West Bengal, but let's be honest, the list is never-ending. After all, Bengalis are a foodie. If you still have the question, "What is the famous food of West Bengal?" Or "What is the favorite food of West Bengal?" well, this can never be answered by mentioning only one food. 
So, as soon as this pandemic gets over, add a trip to Bengal to your bucket list so that you don't miss out on sumptuous delicacies in life.