Despite being a densely populated city, the city never makes you run out of options when it comes to food. The city lanes provide you with diverse varieties of mind-boggling food items, may it be snacks, meals, beverages, or desserts that not only can boost your energy but can also change your mood instantly. The Marathi term 'Khau Galli' means food street. And if you are in the city, Khau Galli Mumbai might be your favourite appetizing spot. Moreover, if you wonder where Khau Galli in Mumbai is, you need to keep reading.
1)  Churchgate Khau Galli
Image credits –

lbb
The Khau Galli at Mumbai Churchgate gives simple traditional dishes an extraordinary twist. Some of the must-try snacks include the loaded fries combos at The J located near KC college, the palatable varieties of sandwiches at Raju Sandwich, and Juhu Chowpatty's spicy chaat fluffy chocolate waffle at Prithvi café and the yummiest ice-cream biscuits at K. Rustom & Co. This Khau Galli at Mumbai Churchgate might also become an irresistible part of your after-office break or weekend getaway.
2) CST Khau Galli 
Image credits – 

reddit
The Khau Galli Mumbai pav bhaji is considered a quick snack for the busy Mumbaikars. That's not only tasty but also suits every pocket. Cannon at Khau Galli Mumbai CST provides you one such flavourful Pav Bhaji. The Bhaji involves a perfect mix of vegetables, topped with butter & sprinkled with coriander. This vegetable gets served along with soft & puffy pavs. A slice of lemon & finely chopped onions skyrockets the taste. And, not just this, if you are at this Khau Galli of Mumbai, you can also opt for freshly prepared pizzas and layered burgers at Pizza Hut, McDonald's and Subway, etc.
3) Carter Road Khau Galli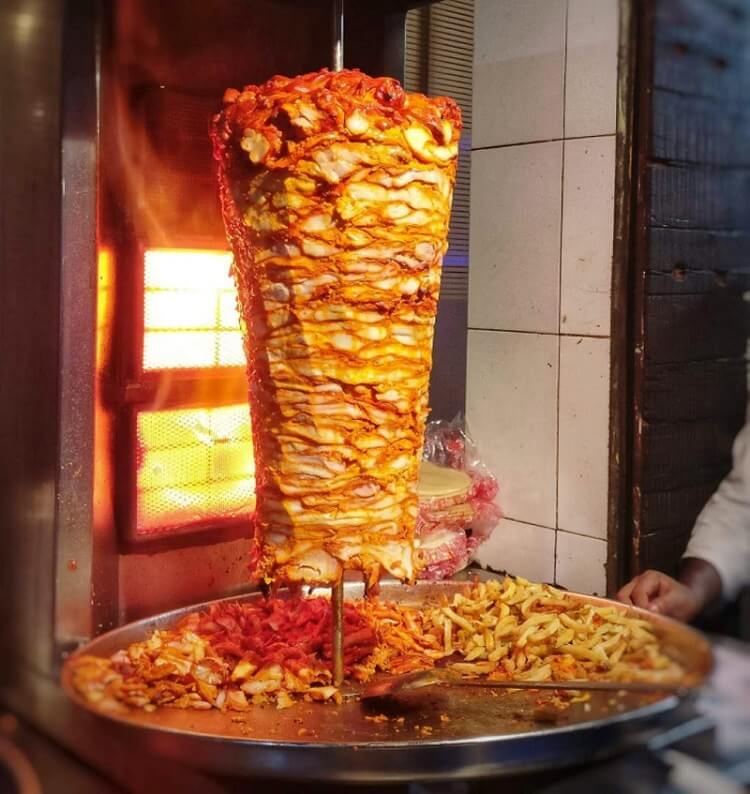 Image credits –

lbb
Located near Bandra promenade, this Mumbai Khau Galli provides you with two in one solution. You can adore the chilly sea breeze and simultaneously enjoy the aromatic street food at stalls opposite the Arabian Sea. Shawarma and rolls at Carter's Blue, delicious parathas at Lassi Te Parrontthe, momos served with spicy red chutney at Kepchaki Momos are a must-try. This Khau Galli of Mumbai also satiates your sweet tooth by providing you several options for desserts like frozen yogurts, sugary cupcakes, munchy waffles, syrupy gulab jamuns, etc.
4) Ghatkopar Khau Galli
Image credits –

lbb
If you are a vegetarian or a dosa-lover, this place comes to your rescue. This lane offers you the best Khau Galli Mumbai dosa with some creative stuffings & styles like Remix Dosa, Cheese Burst Sada Dosa, Thousand Island Dosa, Manchurian Pasta Dosa, Jini Dosa, Ice Cream Dosa, Noodle Dosa, etc. Chilled paani puri and all-time favourite Khau Galli Mumbai pav bhaji can also be a good catch. Even if you are a non-vegetarian, you still don't have to worry as you too have options like kebabs, egg curry, and many others.
5) Mohammed Ali Road Khau Galli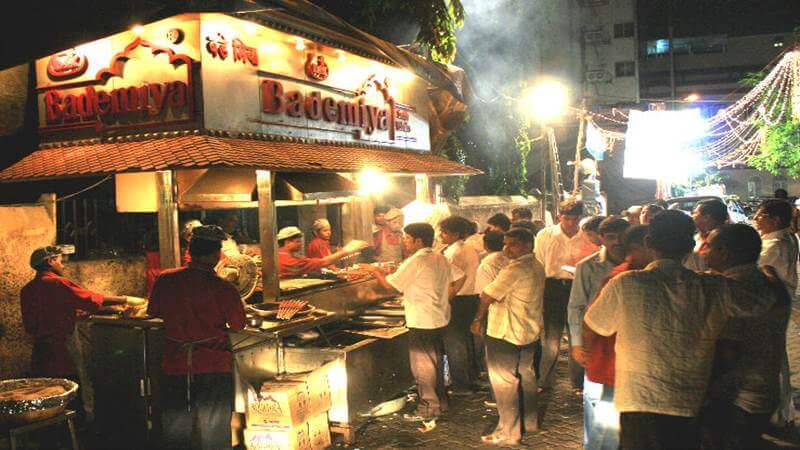 The Khau Galli at Mohammed Ali Road Mumbai is specifically crowded during Ramzan, rejoicing the meat lovers by providing a plethora of sizzling dishes. Tender meat, succulent tikkas, juicy kebabs, spicy drumsticks, mouth-watering rolls, and other instantly made snacks like paani puri & bhel puri are some of the most popular items provided by the eateries. You can also try lip-smacking desserts like Malpua and Phirni at some pocket-friendly cheap rates. 
6) Kharghar Khau Galli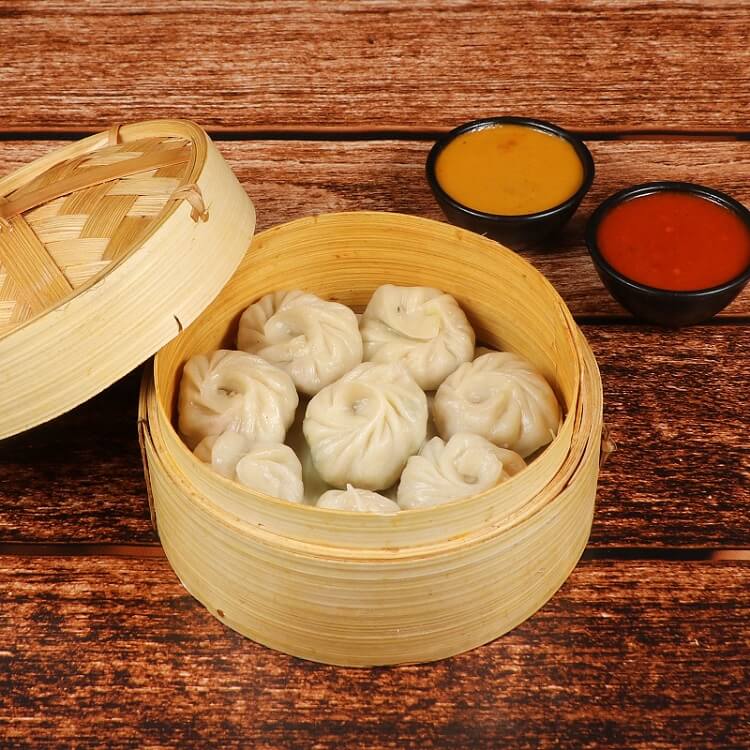 Image credits –

swiggy
If you are a momo-lover, checking out this Mumbai Khau Galli is a must-try. The availability of Chinese treats and momo variations at this Khau Galli might amaze you. The steamed, fried, and marinated momos filled with vegetarian or chicken stuffing when served with hot soups or spicy Schezwan sauce can make you drool, especially after a hectic day at work or a busy college day.
7) Tardeo Khau Galli
This Mumbai Khau Galli is the ultimate destination for every food lover. It is also a place for office goers, who look for a fulfilling meal along with a dessert that makes their day. Moreover, no matter if you are vegetarian or non-vegetarian, this place won't disappoint you as it will always have something to cater to your taste. Some of the best-sold dishes include puri bhaji, butter-smeared pav bhaji, vada pav, samosa, South Indian thali, etc., for vegetarians, and mutton biryanis, kebabs, rolls, etc. for non-vegetarians.
8) Zaveri Bazaar Khau Galli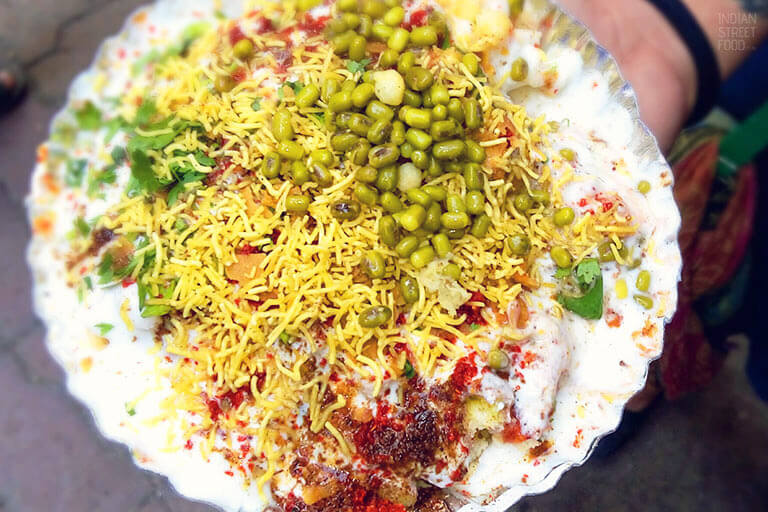 Amidst the sparkling jewelry stores lie this Mumbai Khau Galli of unique flavours. It provides culinary delights to exhausted shoppers in search of some relishing snacks. Various local food stalls selling Tawa pulao, crispy dosa & uttapam, kachori, masala khichiya, dabeli bhel, papdi chaat, moong dal bhajiyas, milkshakes, and freshly prepared juices can surely leave you with a great experience.
9) Princess Street Khau Galli
This Khau Galli in Mumbai is a favourite refreshment point for the crowds shopping at the bustling Mangaldas and Crawford Market. From spicy chaats like aloo chaat, samosa chaat, papdi chaat to scrumptious dal pakwans, badam barfis, jalebi, rabdi, ice halwa, and different flavoured ice-creams, milkshakes, you can find it all here. The distinct flavours might leave you with a craving for more. 
10) Mahim Khau Galli
This Khau Galli in Mumbai is a legendary food destination for the Mumbaikars and other curious visitors. The lane is peculiarly known for its non-vegetarian fare serving yummy eats like tender chicken tandoori, baida roti (egg-based paratha parcel), chewy Khiri & seekh kebabs, khichda (a perfect amalgamation of meat, rice, lentils, and spices), etc. Other delicacies like Falooda ice-creams and kulfis available in almost all possible varieties might surely satisfy your taste buds.
We wish you all bon appetit!