Not everybody is friends with technology, but each of us depends on it for our every work. In the present scenario, technology has taken over our minds and our daily activities. From waking up early through morning alarm to set up the alarm at night for the next day, technology solves our thousands of problems in just a click. Sometimes, we don't even consider how technical things work for us, but we realize when we get stuck at points, we can't perform.  
Do you know what the most artistic, best-loved technology we use every time is? Yes, our precious mobile phones. For which we can even donate our kidneys if needed. And when it comes to clicking pictures, nothing is better than pushing your lips 2 inches out and calling it a pout. And we have many kids in our country crushing over the pout. Sorry, technology. Not only kids but also people like me who are adult and techno-shy also doesn't even know how to move pictures from phone to computer and still talk about picture quality. But this blog will work as a blessing for every one of us who wants to copy photos to iPhone and androids from PC.  
Let's see how to transfer files from mobile to laptop through Wi-Fi or data.  
How to transfer photos from android to a computer?
Technology can be a bit confusing, but there is nothing like algebra and trigonometry in it. We can easily ace our technical problems without even studying sinΘ and cosΘ. There are two ways to transfer photos from an android phone to a laptop, and they are-  
With USB 
Firstly, connect your phone to a PC with a USB cable to transfer the file/photos.  

 You need to keep your phone on and unlock it so that the PC can find your phone.  

Go to the My Computer and connect your mobile phone to your laptop. 

As you get connected, you will get few choices in your phone to perform actions such as transferring files, images, USB tethering, and the like. You have to select accordingly, but here we need to copy the pictures to share the photos.  

After selecting the appropriate option, you will see two more options like memory and phone. Select one in which you can find a particular image that has to be copied.  

Once you find the image, take your cursor there and right-click on it to copy. 

After copying, paste the image on the desktop or wherever you want. The same way, you can transfer more pictures and files.  
Without USB 
Nothing is impossible, and while working with technology, you will get multiple choices to cut down the impossible term.  
The easiest way is to download an app to transfer photos.  

Download AirMore into your mobile phone through Google Play Store.  

Get into the app's website through your laptop.  

Search the address: web.airmore.com, and you will be redirected to the homepage of the website.  

Click on the "Launch AirMore Web to Connect" that will help you to connect your mobile phone with your laptop.  

Open the app on your phone, click on the "Scan to Connect," and scan the QR code shown on the web page.  

Do not forget that your device and your PC should fall under the same network connections or Wi-Fi.  

After connecting the devices, select the pictures and click on export.  

You can choose more than three images to get the work done faster and easier through this method.  
How to transfer images from iPhone to PC? 
This, too, have two methods to transfer your files from your iPhone to PC. 
With USB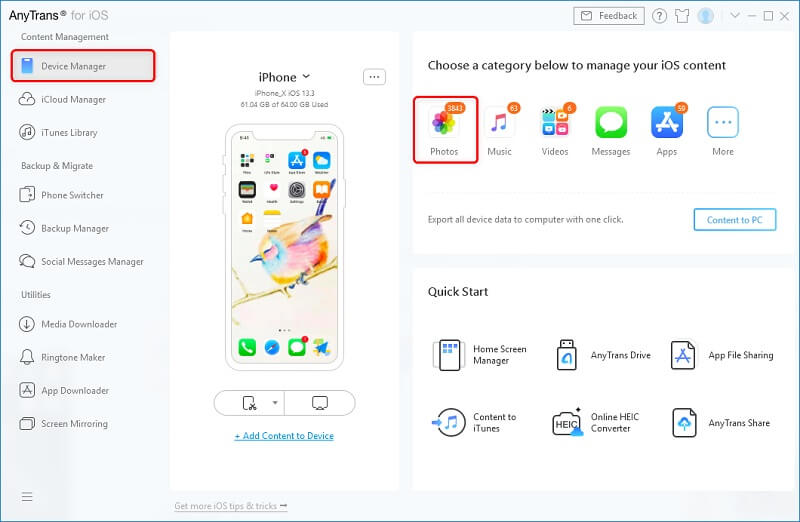 image credits- imobie
The first step involves the connection of the laptop to your mobile phone by using a USB cable. Turn the Device Manager mode on and select the Photos option.  

Select the photos to transfer from your iPhone to your laptop and click on the Send button.  

The step was relatively easy and fast.  
Without USB 
image credits- ilounge
As mentioned earlier, you can even transfer your files and images from mobile to PC with the wireless technique.  

Install the AnyTrans app on your mobile phone and move on to the website of the same app through your PC. Browsing address: anytrans.io 

Open the app on your phone and scan the QR code shown on your computer.   

Connect the devices, select the pictures you would like to transfer and click the download button to share the images.  

After sending the images, you'll get to see all your pictures on your laptop. Copy or download them to save them.  
Using these tricks can help you transfer your files, images, videos, and a lot more. Do let us know if any of these worked for you?