If we talk about the highlight of the year for office goers, it will be working from home. And, maybe some of us might be missing the fun we used to have with our colleagues and friends, but still, the comfort we get by being with our loved ones is undeniable. But, do we have the right space and accessories at home to work efficiently? No matter the answer, we can surely help you figure out a better way. We have curated a list of some simple home office design ideas which can help you enjoy your work even at home. Just keep reading.
1) Let the light in
Home office ideas include this crucial point at the top. You can choose a workspace area that brings sufficient light to your desk, and if it's the natural light, that's awesome. Because it not only makes space look wider but also keeps eye strains and headaches at bay. Although if you are using overhead lights, bulbs, or lamps, make sure that the brightness level is adequate. Moreover, home office design ideas include placing your desks such that there is no glare on your laptop screens or monitors from windows or lights. 
2) Prioritize your health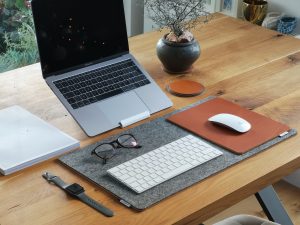 When you are looking for home office décor ideas, you need to prioritize your health and comfort for sure. Investing in an agronomic chair and a few accessories like a laptop stand can help you avoid major health issues and eye problems. So do not neglect to make such small investments that can prevent you from working or sitting in the wrong postures for prolonged hours. 
3) Good ventilation 
It's not mandatory to choose a big spacious room for decorating a home office. But you need to make sure that it has enough ventilation so that you inhale fresh air and do not feel suffocated. In addition, such office décor ideas can help you stay energetic throughout. So, keep the windows open and let them do the magic.
4) Add green
Let the positive vibes in by adding nature to your home office design. Get yourselves surrounded with indoor plants that will make you feel alive so that even if you are alone in your room, you won't feel bored or sleepy. You can also have some flower vases that will give a pleasing look and fragrance to your work environment, enhancing your productivity considerably.
5) Systematic assemblage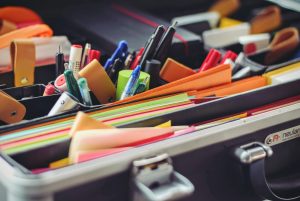 Your home office design must include proper organization of things by ensuring efficient use of cupboards, drawers, shelves, built-in cabinets, etc. In addition, you must optimize the space as much as you can so that there are no unnecessary distractions to take away your concentration. Besides, make sure that the equipment required by you for your job is within your reach. And, the things you regularly need are right at your desk so that you have enough time and energy to get the work done. 
6) Cleanliness
Home office ideas involve keeping your workplace neat and clean. Also, you can try to discard the extra papers that might get mixed up with the essential files or documents and keep all the things in place once you are done for the day so that they do not get misplaced easily. Besides, you can also use scented candles and aroma diffusers to rejuvenate your mind and soul because how we feel while we work is equally important.
7) Get Artsy
Home office design ideas want you to bring out the hidden creative version of yourself. Just because it's your home office area doesn't mean that it must be dull. Decorate your room with the things you love like decorative wall hangings, self-made craftworks, antique paintings, etc. For official accessories, you can make use of trendy notepads, colourful sticky notes, whiteboard & marker (for your to-do list and other crucial reminders), etc. These might sound too basic but remember, small things in life matter.
8) Inject Colour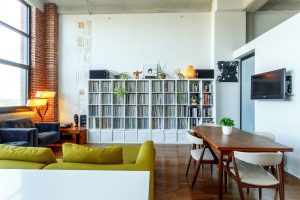 Just like you want your living room to be ideal and full of your favourite stuff, the same goes with your home office. You can use office decorating ideas or make amendments to your area just the way you like. For this, you can pick the colour of walls, ceilings, panels, rugs, furniture, etc., based on your liking. Even if you choose a white background, you can add more bright elements to it so that you love being in your workplace.
9) Bring in books
Many-a-times it is hard to spare time and space for the books we plan to read. Since we keep postponing it, the day never comes, and other things keep influencing us. We want you to follow such home office ideas that keep nurturing you. So, if you have your favourite books, novels, or magazines nearby you, then you can at least start reading a chapter a day whenever you get a chance in your leisure time. And, who knows, you might end up reading a complete book within a few weeks.
10) Inspire yourself
There are times when you need to keep reminding yourself that you can do this. But sometimes, it is hard to bring that chill vibe inside you, owing to the strict deadlines and work pressure that keeps you engaged. So, it's crucial to surround yourself with family pictures that will inspire you not to give up. Using such home office décor ideas, you can also add photographs of some fun-filled & thrilling adventures that you might have had in the past or some places that you wish to visit on your next vacation.