We all know that aerated drinks are not so good for health, but still, we can't stop ourselves. Because all we look for are instant thirst quenchers which are easily available at the local stores. But don't you think the current pandemic situations are pointing towards something important? And, that is our health. So, then why not utilize the boring lockdowns by preparing some healthy juices right at our homes. So, let's check out the below list of nutritious juices for good health.
1) Apple Juice
It is a healthy juice containing several nutrients that provide a healthy body. Vitamins A, C, E, K, and other phenolic compounds with a delectable taste make it a good option for you to stay immune. It also provides skin benefits, cures constipation, and aids weight control.
How to prepare juice:
Wash the apples properly, peel them (optional), cut them into small pieces, and remove seeds. Blend them in a mixer until smooth, strain the healthy juice in a glass and serve immediately.
2) Amla Juice
I am sure you might have heard this name before, especially from your mom or granny. Amla juice is the best juice for health as it is considered a natural cure for eyesight, hair & skin problems, and weak digestion. The high amounts of Vitamin C boost your immunity and accelerate metabolism that helps in burning fat. For better results, you can drink this healthy juice in the morning. And, for a better taste, you can also add a drop of honey and a pinch of cardamom.
How to prepare juice:
Blend the amlas along with half a cup of water in a mixer. Once the mixer is smooth, strain it, add some honey, cardamom, and salt as per your taste. Serve this healthy juice with ice cubes.
3) Orange Juice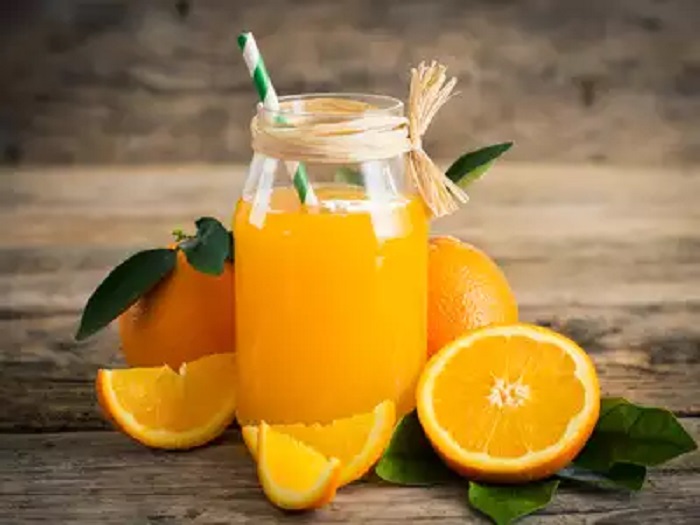 This juice is another healthy juice for your skin as it is a powerful antioxidant that protects you against cell damage caused by free radicals. It also promotes strong bone formation, helps wound healing, maintains gum health, etc. 
How to prepare juice:
Wash the oranges properly, peel them, cut them into two halves, and remove the seeds with the help of a fork. Now, add the pieces into a mixer along with half a cup of water. Add sugar, honey, or salt as per your taste. Blend well. Now, strain the smooth mixer and serve immediately.
4) Pineapple Juice
It is another easy juice to make at home with numerous health advantages. This healthy juice detoxifies the mind and body, prevents vision problems, regulates blood pressure, strengthens gums, promotes healthy digestion, supports healthy skin, reduces signs of ageing, and burns excess stomach fat.
How to prepare juice:
Peel and chop the pineapple, put it in a mixer jar. Add 2-3 tablespoons of sugar, half a cup of water, salt (optional), and blend well. Strain your juice to avoid any lumps.
5) Pomegranate Juice
Pomegranate is a flavourful fruit used to prepare various jams and sugary syrups. This healthy juice prevents stomach disorders, moisturizes skin & reduces wrinkles, treats acne & pimples, reduces the risk of heart problems, etc. Though you can have the packaged juices available in general stores and supermarkets, nothing can replace the taste of freshly prepared natural juice, which can be made at home by following a few simple steps.
How to prepare juice:
Wash the pomegranate, slice off the top part, and cut them into four pieces using a knife. Separate the seeds with your fingers and discard the white pith. Add the pomegranate seeds to the mixer and blend. Strain the mixer and enjoy your drink.
6) Black Grape Juice
Black grapes are commonly used for making wines because of their unique flavour. The juice provides skin, hair, and health benefits. It also helps in boosting brain power & overall immunity of the body. Besides, people with problems like migraine, constipation, kidney disorders, knee pain, high blood pressure, etc., can also find this healthy juice as a natural cure.
How to prepare juice:
Wash the grapes thoroughly (try to wash them twice or thrice as they contain harmful pesticides). Put them in the mixer, add half a teaspoonful of sugar (as per your taste), and half a cup of water. Blend well. Once done, strain the liquid and pour it into a glass. Add a pinch of salt while serving and enjoy.
7) Cucumber Juice
You might have seen people placing cucumber slices over their eyes to get rid of dark circles. And, if you wonder if that works or not. Then, my answer is yes, it does. Moreover, cucumbers even add quite a flavour to your summer salads by adding a handful of nutrients to your daily diet. They contain high water, fibre content that makes them a meal filler. Thus, helping you avoid high-calorie intake. The good number of health benefits makes it a must-have refreshing summer drink that keeps you hydrated.
How to prepare juice:
Put the freshly chopped cucumber pieces into the mixing jar, add some lemon juice, black pepper, salt for a refreshing taste. Pour them in a glass after straining and serve them with a few mint leaves at the top. 
8) Watermelon Juice
We all love this fruit because of its yummy flavour, vibrant colour, and nutrient-rich pulp. However, you might have faced times when you were excited to bring a good-looking watermelon at home but ended up disappointed by its taste. So, let us tell you how to choose a good watermelon. Firstly, choose a watermelon with a heavyweight as the more it weighs, the juicier it is. Secondly, look for the corners. Finally, you might see a field mark where the watermelon might have rested on the ground. Make sure that this spot is yellow and not white, as a white spot is a sign of unripe or immature watermelon. Apart from the watermelon juice, watermelon mint juice and watermelon orange juice are also good options to quench your thirst in the summers.
How to prepare juice:
Rinse the watermelon, cut it into small pieces, extract the pulp from the rind and place the small pieces in the mixer. Make sure to discard the black seeds. However, the white ones can be present at the time of juice making. You can also add half to one teaspoon of chopped ginger, one teaspoon of lemon juice, and some mint leaves (optional). Blend well, and your freshly prepared natural juice is ready.
9) Carrot Juice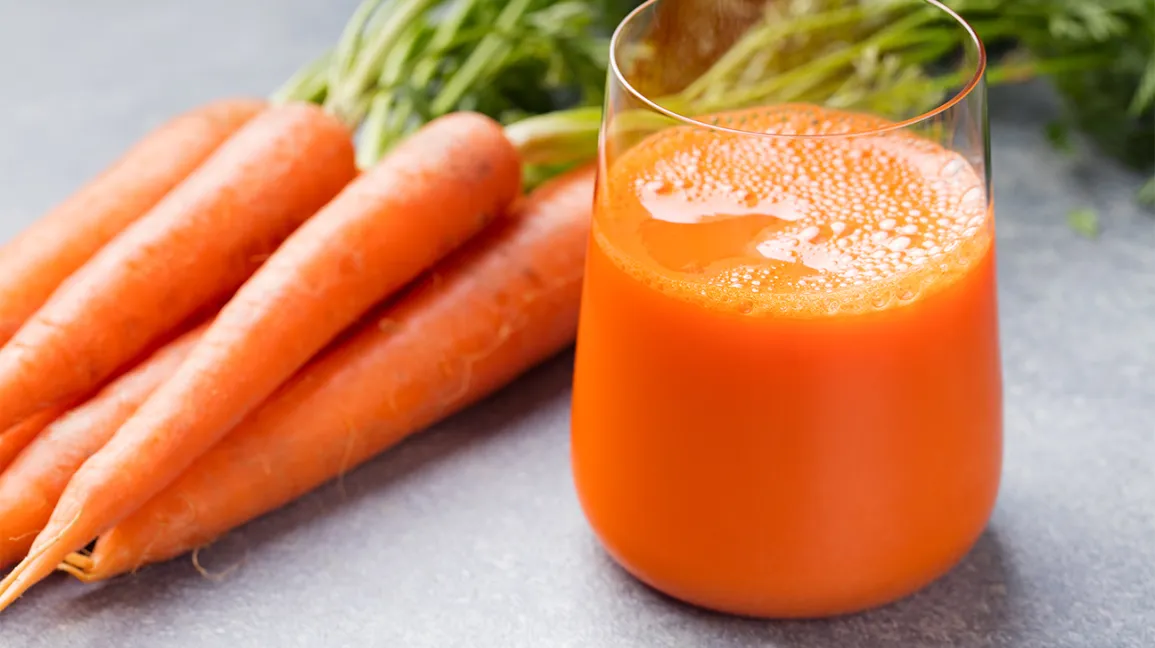 Carrots are a good source of beta-carotene and vitamin A. They also act as antioxidants that clean the harmful toxins from the body. Carrot juice is beneficial for all age groups, especially for individuals with weak eyesight and those who wish to lose weight. Besides, this healthy juice also keeps cancer and other heart diseases at bay, boosting your immunity and maintaining your health considerably.
How to prepare juice:
Peel and chop carrots. Add an apple keeping the skin on, half an orange, and some ginger to make your drink more flavorful. Blend well and strain out the pulp using a sieve. Serve your energy drink with a pinch of salt.
10) Lemon Juice
It promotes hydration, aids digestion, supports weight loss, and provides fresh breath. Besides, the citric acid present in lemons also helps you prevent kidney stones. So this healthy juice is the easiest way to stay healthy. And the juice-making involves some super-easy steps.
How to prepare juice:
Pour two glasses of water into a big bowl or container. Cut the lemon into two halves and squeeze the lemon juice into the bowl with the help of a lemon squeezer. Add sugar, black salt, and jeera powder per your taste and stir until the sugar dissolves completely. Pour the juice into the glasses you wish to serve and add a few ice cubes. 
Apart from the different juices mentioned above, you can also create mixed fruit juice depending upon your favourite fruits and flavours.