While facing the pandemic, a new deadly fungus infection was found, the black fungus. Scientists and doctors were trying to find remedies for it, and why it is spreading so hugely; during that time itself, a new variant of the fungus was seen, known as the Green Fungus. 
WHAT IS GREEN FUNGUS?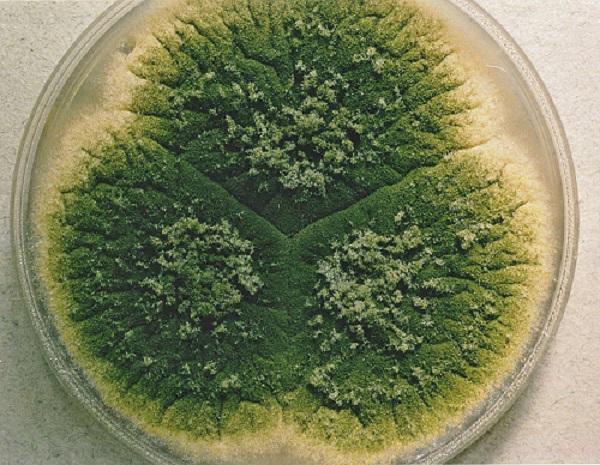 Aspergillosis is a green fungus, and it is caused by Aspergillus, a type of fungus (mold). It lives both indoors and outdoors. People everyday breathe in aspergillosis without getting sick. 
AIIMS Doctor Randeep Guleria has said these fungal diseases are not infectious diseases like the Covid disease. 
WHERE WAS THE FIRST CASE OF GREEN FUNGUS FOUND?
In Madhya Pradesh, Indore, a 34-year-old Covid survivor was diagnosed with green fungus. With The help of an air ambulance, he was shifted to Mumbai on 16th June 2021. The fungus was reported to be found in his sinuses, blood, and lungs. It was the very first case of green fungus in India. 
WHY IS IT CALLED GREEN FUNGUS?
The fungal disease isn't called green fungus because it is green in color; it is called so because it appeared to be green in its culture during testing in the lab. 
Indore reported the first case of green fungus in June 2021
Symptoms of Green Fungus 
Fever 

Fatigue 

Losing the ability to smell

Weight loss

Severe nose bleed

Less urine or blood in the urine 

Chest pain. 
WHO IS MORE LIKELY TO CAUSE GREEN FUNGUS?
According to the doctors and reports, people who have a history of allergy are more prone to have green fungus, and if the patient has pneumonia or fungal balls in the lungs, it can be a critical condition. Those with weak immunity or lung disease can catch the fungus faster than others. 
But worry not, here are some prevention methods you should follow to keep yourself and your family safe. 
Prevention to the Green Fungus 
According to the doctors, we can prevent this fungus by maintaining good hygiene, especially oral and nasal hygiene. One should avoid going to places that are dusty, unhygienic, or have contaminated stored water around. If necessary to visit such places, it is advised to wear the N95 respirator. One should also avoid contact with the soil, or dust and if it needs to be touched, wear a pair of gloves before coming in contact and wash your mouth and hand with soap after coming in contact with the soil. 
The doctors advise us not to panic based on the different colors of the fungus; we should be more concerned about how deadly these fungus infections can be and how we can prevent them from spreading widely. 
Stay Safe, Stay Healthy!