A rich history, a varied landscape and a land of different languages, India is a cultural pot-pourri of faiths, cultures, dreams. The billion people follow a vast number of religious practices and they have some really intriguing stories behind them. We look at 11 strangest temples in India.
1. Nau GaJa Pir: The Timeless Clocked Connection
Clocks are offered here by truck drivers and travellers to reach their destination safely and on time.
Location: On Grand Trunk Road, Near Kalyana Village, midway between Ambala and Kurukshetra, Haryana.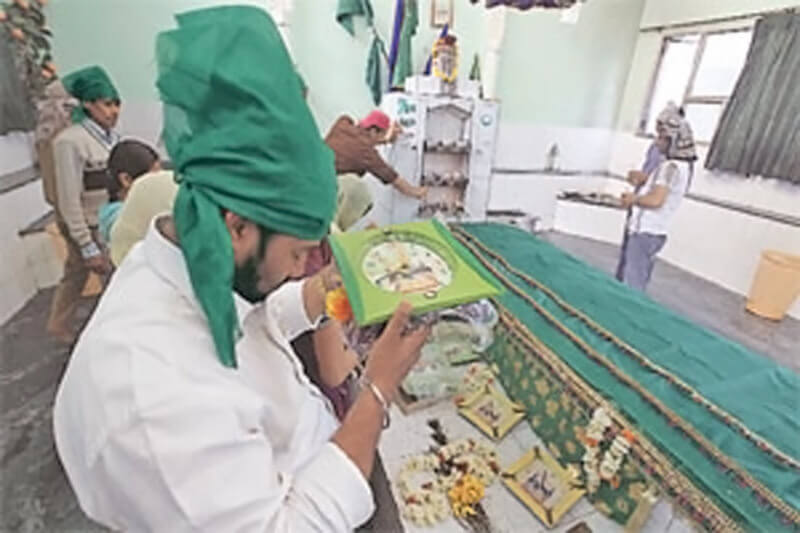 Legend behind the place: The term "Nau Gaza/Gaja" is basically is a unit of length and when literally translated it is equivalent to about eight meters in English. The propel who visit the Nau Gaza Peer offer the baba clocks, garlands, mustard oil and piece of clothes. The clocks signify that the people who visit this tomb should reach home on time. It is said that on a daily basis about fifty clocks are dedicated here.
2) God Of Foreign Travel
Offer a toy aeroplane at Shaheed Baba Nihal Singh Gurdwara to successfully travel abroad.
Location:Talhan village, near Jalandhar, Punjab.
Legend behind the place: This Gurudwara in the tiny village of Talhan, about 12 km from Jalandhar, has made people believe that if you wish to go abroad, you offer prayers along with a toy aeroplane and it will be answered. No surprise that the shrine is now popularly known as 'Hawaijahaj' (aeroplane) gurudwara.
3) Dog Temple – Channapatna, Karnataka
Villagers believed that dogs can stop any wrong doing and ward off evil in the town.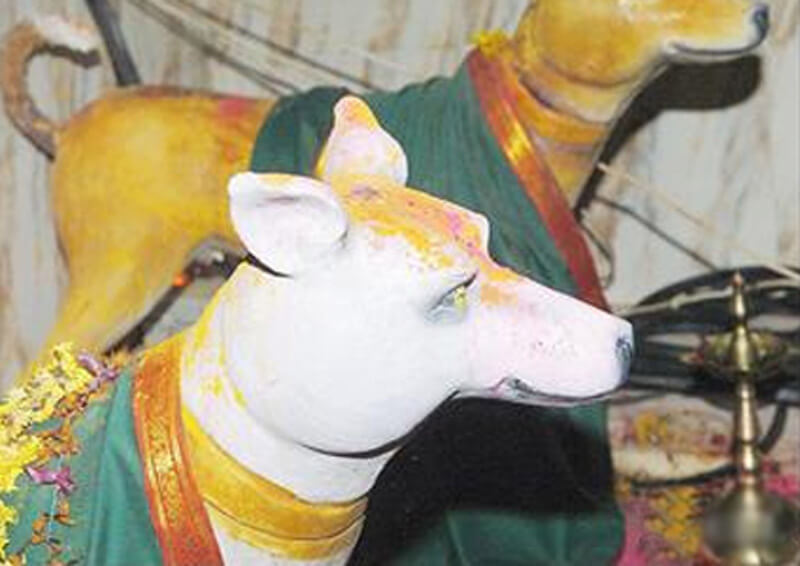 Location: Chennapatna taluk of Ramanagar district. It is 60 kilometres from Bangalore
Legend behind the place: The dog temple, which was was built in 2009 is located in Chennapatna taluk of Ramanagar district, around 60 km from Bangalore. The temple of the canine breed is just next to the temple of a village deity. The local village folks believe that the dog possess the power of stopping any wrong doings and works along with the deity.
4) Worshipping weapons – Ajudh/Astra Puja
To remove the fear of enemies and evil spirits.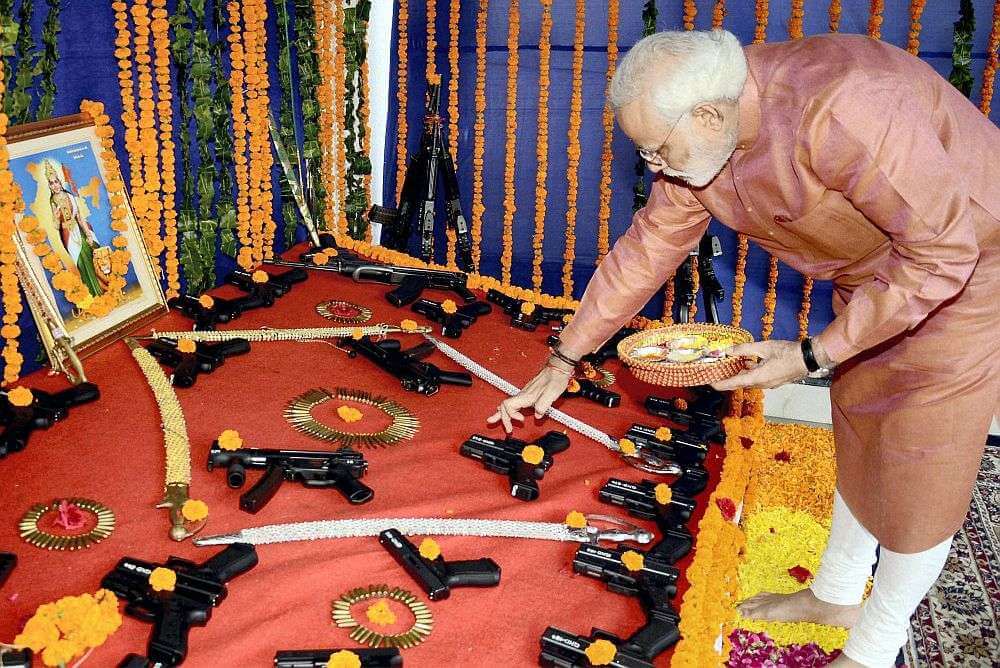 Location: Most part of India
Legend behind the place: Nothing more can weird than worshipping guns and pistols and it can only happen in India! Following the traditions of ancient times, where Kings and soldiers used to perform Ayudha Puja for their weapons. They used to consider their weapons as their protectors and as their Gods. Nowadays, people relate that to mechanical and electrical work, keep their tools and instruments in their puja room and worship them with utmost devotion.
5) Rats Are The Gods Here!
Incarnations of goddess Karni Mata.
Location: Deshnok, which is 30 km south of Bikaner in Rajasthan
Legend behind the place: Karni Mata Temple is a place to worships rats as it is believed that the rats are the incarnations of the Goddess Karni Mata (who is an incarnation of Maa Durga) and her four children (Phew!). Rats roam around freely in the temple premises and also fed with milk and other prasad. The food nibbled by the rats is also considered holy and is sometimes consumed by a devotee, even if it has been half eaten by rodents, too much to imagine!?
6) Om Banna Bullet Baba
Bullet worship to guard travellers on their journey.
Location: 20 km (12 mi) from Pali and 50 km (31 mi) away from Jodphur on the Pali-Jodhpur highway, near Chotila village.
Legend behind the place: Om Bana a.k.a. Bullet Banna is a shrine located in Pali district near Jodhpur, India, devoted to a deity in the form of a motorcycle.  The motorcycle is a 350cc Royal Enfield Bullet. The tale is not so old, some 27 years ago, Om Banna was on the way to his village Chotila when he lost control of his Bullet and died on the spot. When the police took the motorcycle to the police station, it disappeared from there. It reappeared at the accident site. When this miracle happened again, villagers began to worship the Bullet Bike and Om Banna as the Bullet Baba. It is believed that Bullet Baba's spirit guards travellers.
7) Mysterious levitating stone of Qamar Ali Darvesh in Shivapur
200 kg stone flies in the air with 11 men's finger on it.
Location: 16 km from Pune .This Dargah is on the main highway of Pune -Satara road and located in a small village known as the Khed Shivapur.
Legend behind the place: The Dargah is about 700 years old and the interesting fact about the place is that there is a stone which when touched by 11 people by their finger to the stone and shout the name "Qamar Ali Darvesh", the stone flies up in the air. This a huge stone weighting around 200 kg and the mystery is yet to be scientifically proved.
8) A dead Indian soldier who is now Fauji Baba
Guarding the border between India and China.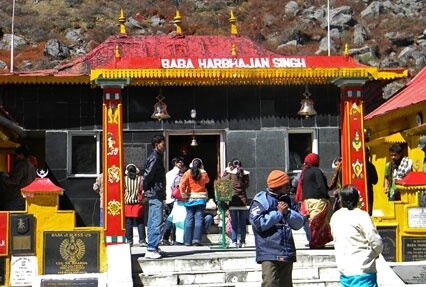 Location: 60 km from Gangtok towards the panoramic view of the Nathula landscape , take a road leads towards the valley of Kupup.
Legend behind the place: According to stories goes like this that Harbhajan Singh, a soldier in the Indian Army and worked in the Dogra Regiment during 1962 China-India War, had led the Search Party to his own body, and later, through a dream, instructed one of his colleagues to build and maintain a temple/shrine after him. A shrine was built at his Samadhi in the hills and the Army folklore holds Baba as a disciplinarian and hence is known to admonish those who do not listen to his orders. They claim Baba would forecast accident in the valley much ahead of the happening.
9) Offer Liquor to Khaees Baba
Make the deity drink and cure people from ailments.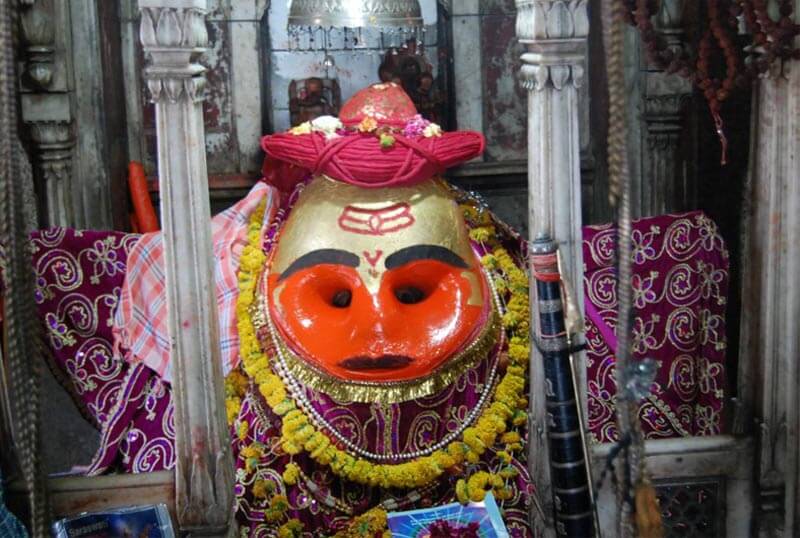 Location: A forest area near Sandana town in Sitapur district, some 80 km from Lucknow,
Legend behind the place: According to locals, the temple was built around 150 years ago in memory of a saint named Khabees Baba, who devoted his life worshipping Lord Shiva in Sitapur. They offer liquor to the deity, who is said to enjoy his drink in the evening and had a knack of clairvoyance and curing people. Welcome to the Khabees Baba temple situated in a where devotees offer liquor to the deity.
10) Mummified monk of Sangha Tenzing – Gue Village, Spiti
Natural mummification by a monk in a lonely village freed the village from plague of scorpions.
Location: Gue is a tiny hamlet in the Spiti valley of Himachal Pradesh, almost on the Indo-China border.
Legend behind the place:The monk, or lama, known as Sangha Tenzin is probably the only mummy in India to have undergone natural mummification.It is believed that this revered lama was a Tibetan monk named Sangha Tenzin, who gave up his life about 600 years back while meditating in the squatting position, which was discovered mummified inside a tomb.
11) Noodles and Chopsuey Eating Kali Mata- Kolkata
Kali Mata offered Chinese cuisine.
Location: Kolkata's Tangra area,
Legend behind the place: Nothing new about a Kali temple in Kolkata, however a look at the `bhog' – Chinese cuisines that includes noodles, chopsuey, rice-and-vegetables dishes, and then one can realize the difference between just any Kali temple. In the heart of popularly known as India's own Chinatown, stands this unique symbol of cross-cultural assimilation.
What are the other weird houses of faith that you have heard of in India!?