One of the best things about Gujarat's cuisine is its variety of snacks that are loved by people all around the world. From the crispy kachoris to the savory dhoklas, the list of Gujarati snacks is endless. These snacks not only satisfy your hunger pangs but also provide a burst of flavors that will leave you wanting more. So, whether you are a foodie or just someone looking to try new cuisines, join me as we take a delicious journey through the best snacks to eat in Gujarat.
Authentic Gujju snacks to eat in Gujarat; 
Khandvi

Dhokla

Handvo

Gathiya

Thepla

Dabeli

Khaman

Farsan

Locho

Dal Dhokli

Rotlo

Khakhra

Sev Tamatar nu Shaak
Khandvi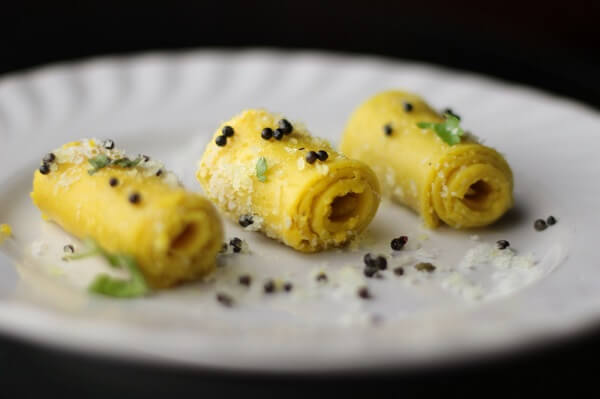 Khandvi is a popular Gujju snack made with besan (chickpea flour), yogurt, and spices. The mixture is cooked until thick and spread onto a flat surface, then cut into bite-sized pieces. Khandvi is light, healthy, and packed with flavor. It has a unique texture that is soft, silky, and slightly chewy. The dish is typically served with a drizzle of tempered mustard and sesame seeds, coriander leaves, and grated coconut.
Best places to eat: Jay Bhavani Khandvi, Shree Amrit Khaman House, Gwalia Sweets, Sankalp Restaurant
Dhokla
Dhokla, the spongy and tangy snack, is the superstar of Gujarati cuisine. It's a staple that can make your taste buds dance with joy. Don't be fooled by its innocent appearance, because this dish packs a punch! Made with fermented chickpea flour and spices, it's steamed to perfection. Dhokla is not only delicious but also healthy, light on the stomach, and perfect for any time of the day.
Best places to eat: Das Khaman, Jai Shree Krishna, Murlidhar Farsan, Bansidhar 
Handvo
Handvo is a popular Gujarati snack that is made from a mixture of lentils, rice, and vegetables. The batter is seasoned with spices such as cumin, coriander, and turmeric before being baked into a savory cake. It is crispy on the outside and soft on the inside, making it a delicious and filling snack. Handvo is often served with a side of green chutney or yogurt and is considered a healthy snack option due to its high protein and fiber content.
Best places to eat: Jay Bhavani Handvo Centre, Kansar Gujarati Thali, Maruti Handvo, The Grand Thakar
Gathiya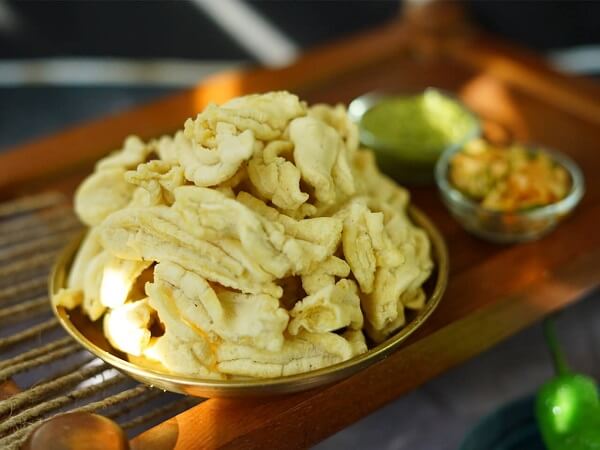 Gathiya, a crispy and savory snack made of chickpea flour, is one of the most popular snacks in Gujarat. This crunchy snack is a staple in every household and is enjoyed with a cup of tea or as a part of a Gujarati thali. Gathiya comes in various forms, like Sev, Bhavnagari Gathiya, and Nylon Gathiya, with each having a unique texture and taste. It's a versatile snack that can be eaten as is or used as a topping for chaats and other dishes.
Best places to eat: Janta Gathiya, Bhavnagari Gathiya, Manekchowk, Hira Laxmi Gathiya
Thepla
Thepla is undoubtedly one of the best snacks to eat in Gujarat. It is a popular flatbread made from wheat flour, spices, and herbs. Thepla is not only delicious but also healthy, as it is low in calories and high in nutrients. It can be enjoyed with a variety of side dishes, such as pickle, chutney, or yogurt. Thepla is perfect for breakfast, lunch, or even as a light snack on the go. Its soft texture, spicy taste, and aromatic flavor make it a favorite among locals and tourists alike.
Best places to eat: Ame Gujarati, Purohit's Thali, Gordhan Thal, Agashiye
Dabeli
Dabeli is a popular snack that originated in the Kutch region of Gujarat and has now become a favorite street food across the state. It is a deliciously spiced and tangy snack that is made with a filling of mashed potatoes, mixed with a special blend of spices and chutneys, and served in a soft, sweet bun. The garnish of pomegranate seeds, roasted peanuts, and sev gives it a unique texture and flavor.
Best places to eat: Kutchi Dabeli, Kirti Dabeli, Khodiyar Dabeli, Dabeli Wala
Khaman
Khaman is steamed and usually served with a variety of chutneys, such as coriander, tamarind, or garlic. Made from gram flour, it is soft, fluffy, and mildly sweet, with a tangy flavor. It is a perfect snack for any time of the day and is commonly found in street food stalls, restaurants, and homes across Gujarat. Khaman's popularity has also spread to other parts of India, and it is now widely available in most Indian cities.
Best places to eat: Shree Ambika Dalvada, Baroda ni Rasoi, Bhagat Tarachand, Jai Jalaram Khaman
Farsan
With its unique blend of spices and flavors, Farsan has become a favorite snack of people across the country. Made with gram flour, spices, and vegetables, this savory snack is not only tasty but also healthy. Farsan is available in a variety of forms, including Dhokla, Khandvi, Fafda, and Sev. Each variant has its own distinct taste and texture. The best thing about Farsan is that it is light, easy to digest, and can be eaten at any time of the day.
Best places to eat: Jayhind Sweets, Oshwal, Madhavnagar Na Rasawala, Kandoi Bhogilal Mulchand
Locho
It has a little acidic flavour and is soft and fluffy because it is made from gram flour. Various chutneys and garnishes, including sev, onions, and cilantro, are frequently added to it while serving. Locho's adaptability makes it stand out from other snacks; you can have it for breakfast, a midday snack, or even a full meal. It's no surprise that Locho is regarded as Gujarat's best snack due to its mouthwatering flavor and adaptability.
Best places to eat: Dakor na Locho, Dabeli Man, Mandapeta, Kailash Parbat, Jay Shree Locho
Dal Dhokli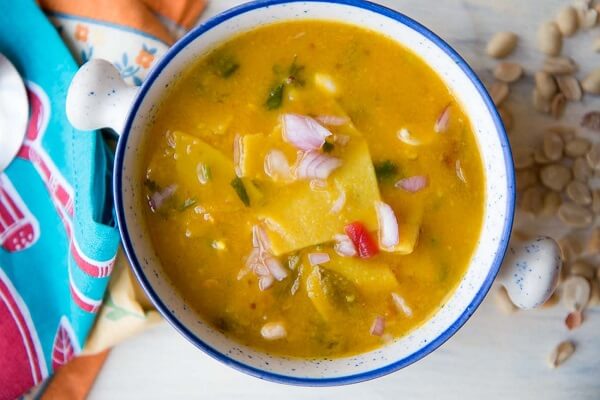 Dal Dhokli is a traditional Gujarati snack that is loved by many. It is a hearty and comforting dish that is made by cooking wheat flour dumplings in a spicy lentil stew. The soft and chewy texture of the dhoklis, combined with the tangy and flavorful dal, makes for a truly satisfying meal. It is often served with a dollop of ghee and garnished with fresh coriander leaves. This dish is not only delicious but also provides a good source of protein and carbohydrates, making it the perfect snack for a quick energy boost.
Best places to eat: Vishalla, Mandap, Sasuji, Gordhan Thal
Rotlo
Rotlo is a traditional and popular snack in Gujarat, India. Made from bajra (millet) flour, it is a simple flatbread that is best eaten hot with a dollop of ghee or butter. Rotlo is a staple food in many Gujarati households and is enjoyed as a breakfast or snack item. It is also a popular street food and can be found at roadside stalls across the state. Rotlo is not only delicious but also nutritious, as bajra is a good source of fiber and essential nutrients.
Best places to eat: Gopi Dining Hall, Rajwadu, Hotel Sarvottam, Toran Dining Hall
Khakhra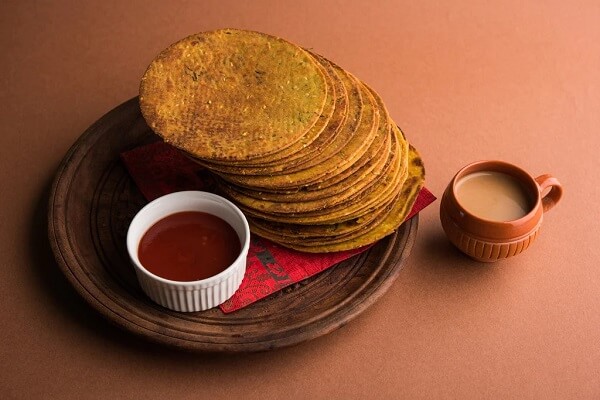 Khakhra is a popular snack in Gujarat that is loved for its crispy texture and delightful flavor. Made from wheat flour, khakhra is a thin, crunchy flatbread that is typically roasted with spices and oil. It is a perfect snack to munch on when hunger strikes and is commonly enjoyed with tea or chutney. Khakhra is a healthy snack option as it is low in calories and high in fiber. Its versatility makes it an ideal choice for breakfast, lunch, or dinner.
Best places to eat: Shreeji Khakhrawala, Saurashtra Khakhra House, Jagdish Farshan
Sev Tamatar nu Shaak
Sev Tamatar nu Shaak is a popular snack in Gujarat, India. It is a flavorful and spicy dish made with tomatoes, onions, and a variety of spices, topped with crunchy sev (thin fried noodles made from chickpea flour). This dish is perfect for those looking for a quick and tasty snack. The combination of tangy tomatoes, crispy sev, and aromatic spices make Sev Tamatar nu Shaak a unique and delicious treat. It can be enjoyed as a standalone snack or served as a side dish with bread or rice.
Best places to eat: Bawarchi, Rasoighar, Raju Omlet, Jay Bhavani Vadapav
Whether you're a fan of spicy, sweet, or savory treats, this vibrant state has something to satisfy every craving. So go ahead, munch away and enjoy the flavors of Gujarat, one delicious bite at a time!