Summer in India can be sweltering and unbearable, and what better ay to beat the heat than visiting a water park? With a plethora of options to choose from, water parks in India have become a popular destination for families, friends, and couples to have some fun in the sun. From adrenaline-pumping slides to lazy rivers, wave pools to waterfalls, and much more, these parks offer a perfect respite from the scorching heat. In this blog, we will explore some of the best water parks in India that you can visit to escape the heat and have a splashing good time. So, get ready to pack your swimsuits and sunscreen and dive into the refreshing world of water parks.
Let's get to India's No.1 water park;
Splashdown Water Park
Goa's Splashdown Water Park is a wonderful haven of entertainment, thrills, and relaxation. A world of aquatic adventure awaits you as soon as you approach the park, complete with thrilling water attractions, lazy rivers, and wave pools.
As you descend the Twisty Turvy, the Cyclone, or the Black Hole, you will experience an adrenaline rush. You may also take a break from the action and float along the Lazy River, where you can enjoy the sunshine while floating through a calm, soothing river.
The Wave Pool is a must-go place for beach lovers. With palm trees and the sound of the ocean all around you, you may surf here or just relax on the sand.
Wonderla Water Park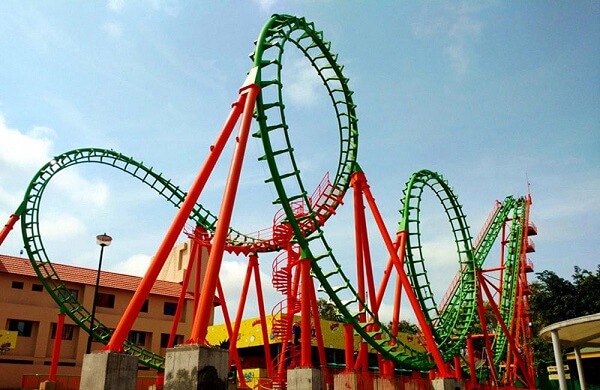 Wonderla Water Park in Bangalore is one of the biggest water parks in India for thrill-seekers and water enthusiasts alike. With over 60 exhilarating rides, it's no wonder why Wonderla is considered the best water park in India to visit during the summer.
What sets Wonderla apart from other water parks is its quirky and fun-filled attractions. For example, the park's "Lazy River" is anything but lazy, as it features a wave machine that keeps the river exciting and unpredictable. Meanwhile, the "Harakiri" slide is a must-try for adrenaline junkies, as it's the steepest water slide in India, dropping riders down a near-vertical slope at speeds of up to 60 km/h.
But it's not all about heart-pumping thrills at Wonderla – the park also offers plenty of family-friendly fun, such as the "Rain Disco" where visitors can dance under a canopy of water droplets to their favorite tunes. And when it's time to refuel, the park's numerous food outlets offer a delicious range of snacks and meals to satisfy any appetite.
Aquatica Water Park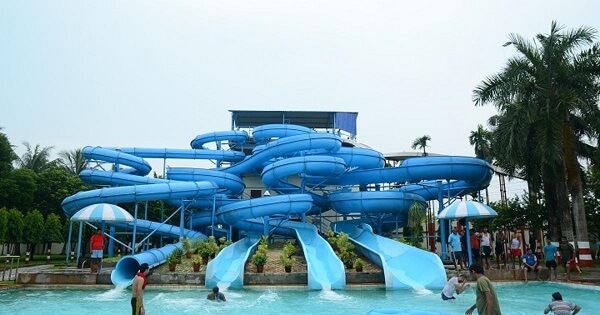 Aquatica Water Park, one of the finest and most famous water parks is the go-to place for all water enthusiasts in Kolkata if you're seeking a splash of fun during the sweltering summer months. This park will keep you cool and entertained all day long with its selection of exhilarating water slides and pools.
Yet its entertaining environment is what sets Aquatica Water Park apart. There's never a dull moment at this water park, from the vibrant and whimsical decor to the upbeat music and exciting shows.
Also, Aquatica Water Park won't let you down if you're a foodie! After a day of aquatic exploration, you may indulge in a range of mouthwatering foods, from spiciness chaats to cool ice creams.
World of Wonder
Welcome to the World of Wonder, the top location for outdoor adventure and enjoyment! This biggest water park in India, which is located right in the middle of India, is a refuge for both thrill-seekers and water lovers. There is no better location to escape the heat and spend the day with family and friends than this amusement park, which offers top-notch rides, slides, and attractions.
In World of Wonder, there is something for everyone, from the fast slides that will launch you through the air to the lazy river where you may float around in solitude. And if you need a break from the action, why not stop by one of the numerous cafes or restaurants for a bite to eat or just relax on a deck chair and take it all in?
World of Wonder is the ideal location for creating lifelong memories thanks to its unrivaled blend of exhilarating rides and leisurely activities. Come see the magic for yourself by coming down!
Adlabs Aquamagica Water Park
The best water park in India, Adlabs Aquamagica in Khopoli, offers an ideal respite from the oppressive summer heat. It is a water lovers' paradise with a wide variety of rides and attractions for guests of all ages. Adlabs Aquamagica has everything for it, whether you're searching for exciting water slides, soothing lazy river rides, or simply some family fun in the wave pool.
Modern amenities and meticulous attention to detail distinguish this water park. Everything is set up to give tourists a safe and comfortable experience, from the clean changing rooms to the well-maintained water rides.
Adlabs Aquamagica offers a variety of mouthwatering dining options, several gift stores, and live entertainment performances in addition to its water rides. This famous water park is the ideal location for a fantastic summer vacation due to its lively environment and fascinating activities. So, get ready for a splashing good time and pack your luggage for Adlabs Aquamagica!
Funtasia Water Park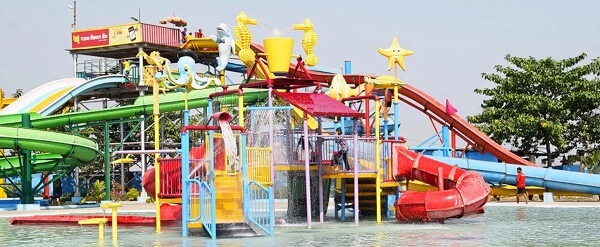 Funtasia Water Park in Patna is the ultimate summer destination for water enthusiasts in India. With its thrilling rides, refreshing pools, and exciting attractions, Funtasia promises a day filled with non-stop fun and adventure.
From the heart-pumping twists and turns of the water slides to the serene waves of the lazy river, Funtasia has something for everyone. The park offers a wide range of rides, including the Tornado, the Black Hole, and the Wave Pool, which are sure to provide a rush of adrenaline for visitors of all ages.
The park's sprawling grounds are dotted with lush greenery and inviting picnic spots, making it the perfect place to relax and unwind amidst the hustle and bustle of city life, and India's No.1 water park. And for those who want to take their experience to the next level, Funtasia also offers luxurious cabanas and private party spaces, ensuring that every visit is a truly unforgettable experience.
Nicco Water Park
Nestled in the heart of Kolkata, Nicco Park is a paradise for thrill-seekers and water lovers alike. With its wide range of thrilling water rides and attractions, it is undoubtedly the best water park in India to beat the scorching summer heat.
From the adrenaline-pumping twists and turns of the "Cyclone" water coaster to the lazy river "Wave Pool," Nicco Park has something for everyone. The "Pirate's Bay" section of the park is particularly popular with kids, with its colorful water slides and splash pools.
What sets Nicco Park apart from other water parks is its commitment to safety and hygiene and that makes it the best water park in India. The water quality is regularly tested, and the rides are maintained to the highest standards, ensuring that visitors can enjoy their day without any worries.
Appu Ghar Water Park
Appu Ghar Water Park, a tropical haven offering guests an exciting respite from the sweltering Indian summer, is situated in the thriving metropolis of Gurgaon. This best water park in India guarantees a memorable experience for both children and adults thanks to its abundance of water rides and attractions.
Anyone may enjoy the thrilling wave pool and heart-pounding water slides at Appu Ghar Water Park. Swimming in the lazy river, sunbathing on the sandy beach, or sipping a cool beverage at the poolside bar are all options for guests.
Yet the attention to detail in Appu Ghar Water Park is what makes it stand out from other amusement areas. The park's lush landscaping, which includes palm trees, exotic plants, and vibrant flowers, instantly transports visitors to a tropical haven. The friendly and helpful staff make sure that guests have a relaxing and satisfying experience.
Shanku Water Park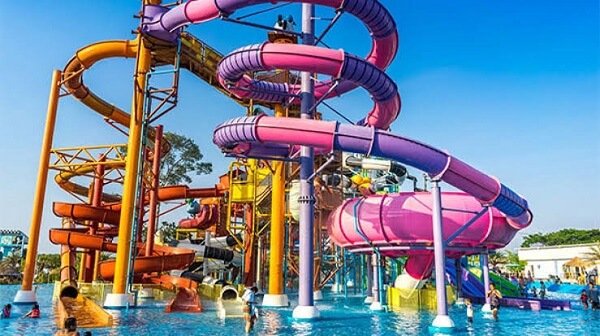 The summertime haven of Ahmedabad's Shanku Water Park is ideal for escaping the heat and having some aquatic fun. It is largely regarded as one of India's No.1 water parks, and with good reason. Shanku Water Park provides guests of all ages with an amazing experience with its enormous selection of electrifying water attractions, enormous wave pools, and lazy rivers.
The colossal "Tornado," which plunges riders down a 40-foot drop and spirals them into a huge funnel, is the park's main draw. The "Lazy River" offers a tranquil, meandering float through the park's verdant foliage for those seeking a more tranquil experience. Also, there are several kid-friendly activities including the "Kids Pool," which has fountains and modest water slides.
Wet n Joy Water Park
For water lovers in India, Wet n Joy Water Park in Lonavala is the ideal summer vacation destination. This park offers a variety of water-based activities for all age groups, including exhilarating water slides and relaxing river rides.
The lively ambiance and upbeat music welcome you to the park and whisk you away to a world of fun and adventure. The rides and attractions' vibrant and inventive designs will wow you.
The "Boomerang" slide is one of Wet n Joy Water Park's most notable features. With a sense of exhilaration and weightlessness, riders ascend a high platform before tumbling down a steep slope and being launched up a sharp wall. The "Tsunami Wave Pool," which imitates ocean waves and offers a cool respite from the heat, is another well-liked feature of this famous water park.
These water parks not only give a fantastic way to cool the heat, but they also offer a secure setting where guests can take part in water-based activities while being watched after by qualified personnel. These best water parks in India are a must-visit location for anyone searching for an exhilarating summer break, thanks to their cutting-edge amenities, thrilling rides, and fun-loving ambiance.