Get ready to swap your shoes for flip-flops and your work clothes for swimsuits, because it's time to hit the beaches in India! Summer is the best time to visit beaches in India, soak up the sun, cool off in the waves, and exploring the beautiful coastline of this incredible country. From the lively shores of Goa to the serene beaches of Kerala, there's no shortage of sandy spots to suit every taste. So, grab your sunscreen, pack your bags, and join me as we explore the top 10 best beaches to visit in India during the summer vacation. Get ready for some sea, sand, and sun-soaked adventures!
Candolim Beach, Goa
Candolim beach is the ultimate summer vacation destination for beach lovers in India. With its long stretches of golden sand, sparkling blue waters, and gentle sea breeze, this beach is a true oasis of tranquility and relaxation. But what makes Candolim truly unique is the vibrant blend of cultures that it embodies. From the colorful Portuguese-style villas that line the shore to the bustling local markets that sell everything from spices to handicrafts, Candolim is a melting pot of diverse influences and experiences.
Whether you're looking to soak up the sun, try your hand at water sports, or simply unwind with a cold drink in hand, Candolim has something for everyone. So come explore this magical beach and discover the magic of India's coastal culture. With its unbeatable combination of natural beauty and cultural richness, Candolim is truly the best beach to visit in India during the summer vacation.
Radhanagar Beach, Andaman Islands
If you're looking for the ultimate beach experience in India, look no further than Radhanagar Beach. Located on the pristine island of Havelock in the Andaman Islands, this beautiful beach in India is a true gem of the country's coastline. With its powdery white sands, crystal-clear turquoise waters, and stunning sunsets, Radhanagar Beach is truly a sight to behold.
But it's not just the natural beauty that makes Radhanagar Beach so special. This beach offers a range of activities to suit every taste, from swimming and sunbathing to snorkeling and scuba diving. Explore the underwater world of the Andaman Sea, home to colorful coral reefs and exotic marine life.
And if you're looking for a little peace, Radhanagar Beach is the perfect spot to escape the crowds and enjoy some solitude. The beach is unspoiled and pristine, and the sound of the waves is the only soundtrack you'll need. So why wait? Grab your shades, your swimsuit, and your sense of adventure, and head to Radhanagar Beach for the ultimate summer vacation experience in India.
Puri Beach, Odisha
Puri beach, nestled in the vibrant state of Odisha, is a hidden gem among the beaches in India. With its golden sands, palm trees swaying in the breeze, and the glittering blue waters of the Bay of Bengal, Puri is a beach-lovers paradise. But what makes this beach truly special is its unique blend of spirituality, culture, and natural beauty. Here, you can watch the sunrise over the Jagannath Temple, one of the holiest sites in India, and then take a dip in the ocean to cool off. Or you can stroll along the beach, soaking up the colorful sights and sounds of the local fishing community as they go about their daily lives. Whether you want to relax in the sun, explore the local culture, or simply unwind in a peaceful setting, Puri beach has it all. So why not add this enchanting destination to your summer vacation bucket list?
Marina Beach, Tamil Nadu
When it comes to beaches in India, Marina Beach in Chennai stands out like a beacon of sand and sea. This 13-kilometer-long beach offers a plethora of activities for visitors, from strolling along the promenade to indulging in street food delicacies. Marina Beach is known for its soft sand, gentle waves, and stunning sunsets, making it the perfect spot for some relaxation and rejuvenation.
But that's not all – Marina Beach also offers unique attractions such as the iconic lighthouse, the statues of legendary Tamil figures, and the fascinating fish market. Take a dip in the sea or try your hand at some beach volleyball, and don't forget to grab refreshing coconut water from one of the many vendors. And if you're lucky, you might even spot some endangered Olive Ridley turtles that nest on the beach during the summer. With its lively atmosphere and breathtaking views, Marina Beach is the ultimate summer getaway that will leave you feeling refreshed and energized.
Kovalam Beach, Kerala
Kovalam, the crescent-shaped beach nestled in the heart of God's Own Country, Kerala, is a paradise for beach lovers. Known for its serene beauty, clear waters, and palm-lined shores, Kovalam beach is one of the best beaches to visit in India during the summer vacation. With its tranquil atmosphere, Kovalam offers the perfect getaway from the hustle and bustle of city life.
One of the most interesting things about Kovalam beach is the variety of experiences it offers. Whether you're looking for a quiet stroll on the beach or an adrenaline-fueled adventure, Kovalam has it all. Take a dip in the calm waters or try your hand at surfing or parasailing. Indulge in some delicious seafood or just relax on the sandy shores, watching the sun sink into the horizon.
Kovalam beach is not just a place, it's a feeling – a feeling of tranquility, adventure, and rejuvenation. So, pack your bags, head to Kovalam, and immerse yourself in the beauty and serenity of this stunning beach destination.
Tithal Beach, Gujarat
Gujarat's coastal town of Valsad is home to Tithal Beach, which is the ideal place to escape the oppressive summer heat. This beautiful beach has a long stretch of immaculate white sand that is bordered by dense palm trees and has crystal-clear seas. Yet Tithal's distinctive black sand, which is claimed to have healing benefits because of its high iron concentration, is what makes it stand out from other beaches in India.
If you're feeling adventurous, you can go paragliding or jet skiing, or you can just kick back and enjoy the sunshine while sipping on fresh coconut water. Yet the captivating sunset view at Tithal beach, where the sky transforms into a beautiful canvas of orange, pink, and purple hues, is the main draw. The beach becomes a bustling cluster of food vendors, live music, and vibrant lights as soon as the sun sets, making it the ideal location for a romantic evening stroll or a fun night out with friends.
Tithal beach needs to be at the top of your list if you're searching for a distinctive and spectacular summer beach experience.
Kashid Beach, Maharashtra
Kashid beach is a slice of paradise tucked away on the Konkan coast of Maharashtra, making it the best beach to visit in India during summer vacation. The turquoise waters of the Arabian Sea gently caress the shore, while the golden sand is the perfect place to lay back and soak up the sun.
But what makes Kashid beach truly unique is its hidden gem – a tiny island just off the coast that is accessible only by a narrow strip of sand at low tide. This secret spot is the perfect place for a private picnic or a romantic getaway, with stunning views of the ocean and the surrounding hills. In addition to its natural beauty, Kashid beach is also a great place for adventure-seekers, with a range of water sports and activities available, including jet skiing, parasailing, and banana boat rides.
Digha Beach, West Bengal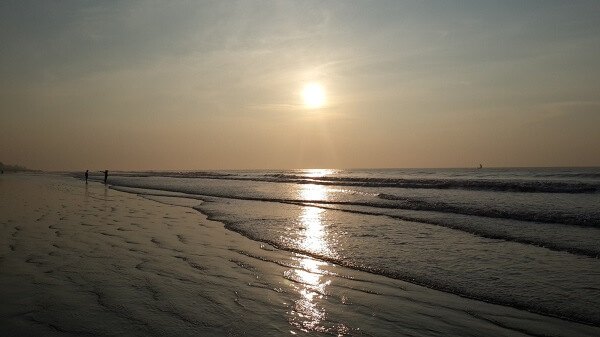 Digha beach is a true gem of the East Coast, located in the charming state of West Bengal. This beautiful beach in India is the perfect destination for anyone seeking respite from the sweltering summer heat. As the golden sun sets behind the shimmering sea, the sky turns into a gorgeous canvas of hues, and the ocean breeze brings with it a sense of tranquility.
The pristine white sands of Digha beach stretch for miles, inviting visitors to take a leisurely stroll, bask in the sun, or simply relax with a book. The crystal-clear waters of the Bay of Bengal offer ample opportunities for swimming, boating, and other water sports. Digha beach also boasts rich marine life, making it a paradise for snorkelers and scuba divers.
But what truly sets Digha beach apart is its unique blend of natural beauty and rich culture. The local fishermen and their colorful boats add to the rustic charm of the beach, while the nearby temples and shrines provide a glimpse into the spiritual traditions of the region.
Gokarna Beach, Karnataka
A stunning location, Gokarna beach offers a rare synthesis of tranquility, natural beauty, and spirituality. It is without a doubt one of the best beaches to visit in India with its unspoiled coastline, clear waters, and soft sand. Gokarna Beach, which is tucked away amongst verdant vegetation and soaring cliffs, is the perfect getaway from the bustle of city life. This beach offers activities for everyone, whether you want to relax in the sun, swim, or just stroll along the shore.
Gokarna Beach is a gorgeous natural beauty, but it also offers a lot more. With various temples and holy places dispersed throughout the area, it is also a location of spiritual significance. For those looking for a closer connection to Indian culture and spirituality, Gokarna is a great place to go because it is well-known as a pilgrimage location. The beach in Gokarna is the ideal location for your summer holiday if you're looking to relax, explore, or simply immerse yourself in India's beauty and spirituality.
Rishikonda Beach, Andhra Pradesh
Beach lovers and nature lovers will find heaven at Rishikonda Beach in the lovely city of Visakhapatnam. An idyllic location for a summer holiday in India, the beach is surrounded by lush green hills, golden sand, and stunning blue waters. Unparalleled relaxation is provided by the peace of the beach, the cooling breeze, and the calming murmur of the waves. The Bay of Bengal's crystal-clear waters offer plenty of chances for swimming, surfing, and other water sports.
The stunning view of the setting sun from the beach is a visual delight and an unforgettable memory. Several shacks serve delectable seafood and cool beverages along the beach. The charming fishing community adjacent enhances the area and gives tourists a chance to learn about the local way of life. For anyone seeking a tranquil and exciting summer holiday, Rishikonda Beach is a must-visit beach in India.
India is a country with many different types of landscapes, and its beaches are evidence of its beauty. India has a variety of beaches for beach lovers to discover during their summer holiday, from the palm-fringed beaches of Goa to the tranquil Rishikonda Beach in Visakhapatnam.
So, whether you're seeking solitude, adventure, or just a good sun-kissed tan, beautiful beaches in India have got you covered, get ready to make some sandcastles, because the beach is calling and it's time to answer!