Delhi is well renowned for a lot of things like its cultural heritage, commercial soundness, and architectural uniqueness. So, if you are planning to visit Delhi, make sure not to miss out on any of these.
1) India Gate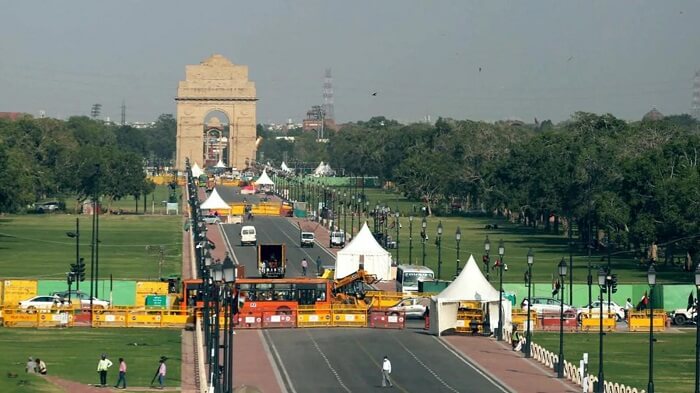 Looking for a place where you can enjoy yourself with your family and friends? Then visiting this war memorial is a must. Since this memorial monument was built in remembrance of our intrepid soldiers who sacrificed their lives during the First World War, thereby it is originally known as All-India War Memorial also. This building is specially appraised for its splendid granite work and the beautifully engraved yellow and red-colored sandstones. It looks amazingly attractive in the evening when it is all lit with sparkling lights. Moreover, the soothing greenery all around the place is truly mesmerizing. Even kids might enjoy being at such a place with a huge garden and colorful spotlights presenting our national flag.
2) Red Fort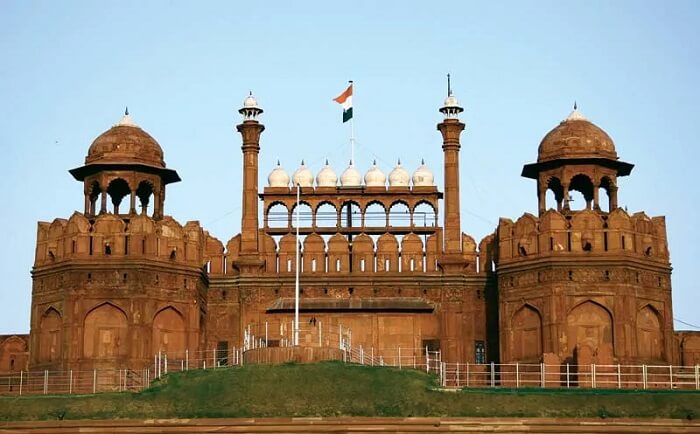 Do you like watching the awe-inspiring and enthusiastic Independence Day celebrations on TV? Does the flag hoisting ceremony give you goosebumps? If yes, then why not check this place out in reality? 
The fort was built by the Mughal Emperor Shah Jahan when he decided to migrate from Agra to Delhi. Since it was a symbol of the Mughal dynasty's magnificent power, the fort was entitled by the names such as 'Qila-i-Mubarak', Lal Qila, or the Mughal Fort. Despite the red stonework, it is also known for its beautiful gardens, royal chambers, and a few astonishing museums. So, if you are planning to make a visit, make sure not to forget to be a part of the spectacular Light and Sound Evening Show. This show will enlighten you with Indian history and its freedom struggles through the motivational speeches of the great freedom fighters like Chandrasekhar Azad, Mahatma Gandhi, and Jawaharlal Nehru.
3) Humayun's Tomb 
This historical heritage site is a perfect blend of Persian and Mughal craftworks. The Tomb symbolizes the love and affection of a grieving wife towards her husband. The Persian lady, Hamida Banu Begum (Haji Begum) built this Tomb in memory of her deceased husband, Mughal Emperor Humayun. The appealing structure is arched with red sandstones, shiny white marbles, and lies at the center of a Char Bagh (Four Gardens) surrounded by pools, distinct channels, and scenic pathways. It not only depicts the ideology of Paradise as per the Holy Quran but also elucidates the essence of Islamic geometry and its cultural significance. 
4) Qutub Minar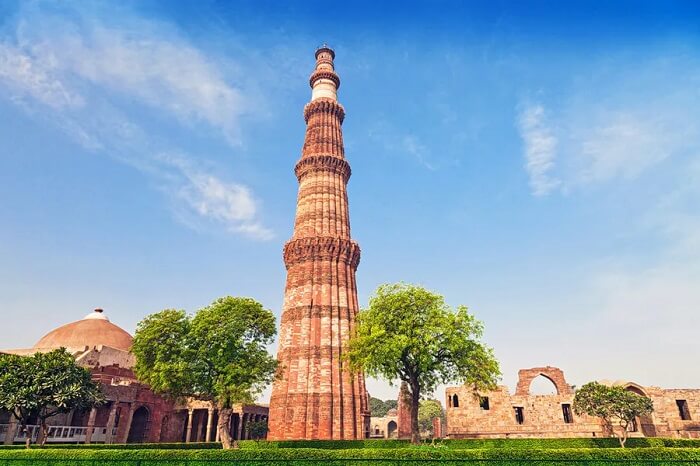 Its tall and interesting design makes it one of a kind. This glorious structure was built by Qutab-ud-din-Aibak. And, owing to its tall structure made up of bricks, it is considered as one of the tallest minarets of the Indian history. This Minar is 73 meters high and consists of five discrete storeys whose diameter keeps on narrowing as we go upwards (it varies from 15 meters at the base to a mere 2 meters at the top). These storeys are well-distinguished by the circular rims and their surrounding balconies. A few other distinct features of this architectural design include the spiral staircase having 379 steps and the inscriptions of the Quranic texts. 
5) Akshardham Temple
Image Credits –reddit
The word Akshar means 'immortal' and Dham means 'abode'. Since this holy place is dedicated to the Indian Saint, Swaminarayan hence it is also entitled as Swaminarayan Akshardham. It not only represents ancient art and culture but also teaches us the significance of spirituality and harmony. Its vast size, aesthetic beauty, exceptional fountain show, impressive exhibitions involving audio and video presentations make it a perfect fit for sightseeing.
6) Lotus Temple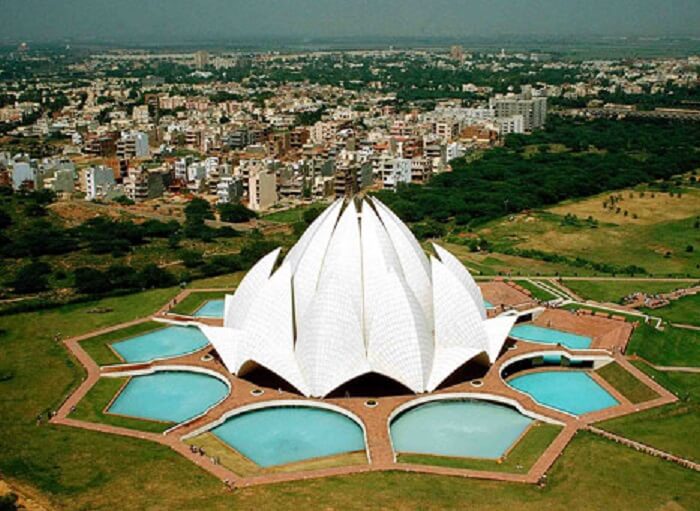 The temple is an eye-catching portrayal of a blooming flower with its marble-clad petals arranged in the form of concentric rings. The principle behind its construction is the 'oneness of God' where people of all religious practices, gender, and races are always welcomed. Though there are no fascinating statues of any God, yet the surrounding pools and the creative structure is so soothing. The peaceful environment inside the Temple is truly influential for the visitors, where they can chant their prayers and meditate without any sort of nuisance.
7) Chandni Chowk
Are you fond of shopping? And, bargaining? If yes, this is an apt place for you. From dresses to shoes, from sarees to jewelry, you can find it all, that too at reasonable rates. Also, if you are visiting this market for the first time it is highly advised to explore it with a group of friends. It will not only help you grab better discounts but also prevent your time searching for the right store amongst the congested lanes.
And, guess what? There is more than just shopping. This chowk is also famous for its tempting street food. The delicious jalebis and the mouth-watering stuffed Parathas sold at Paranthe Wali Gali are a must-have.
How many have you visited?