Many-a-times while having lunch or dinner, our parents keep telling us to keep our phones aside. Is it only because they are concerned about our eyesight? Well, that too might be one reason, but the primary motive is they want us to enjoy the meal with family without missing out on the joy of being together. We don't just eat food. We celebrate it, and most importantly, we connect through it. We don't just share food when we sit together for a meal, but also happiness. And sometimes even our griefs. 
Have you ever heard that a Punjabi eats only Punjabi food? Or a Gujarati eats only Gujarati food? Of course not. We have a wide diversity, yet we believe in togetherness. One such aspect that keeps influencing us is street food in India. So let's dig a little deeper into the pool of flavour by checking out the below Indian street food list, having city-wise segregation.
1) Delhi 
The Indian street food list includes this capital city on the top, owing to its flavourful essence. The best street food in Delhi can be experienced, from the desi dhabas of Chandni Chowk to the premium markets of Connaught Place to food stalls available at metro lines. The sizzling kebabs, juicy butter chicken, stuffed paranthas, colourful platter of chaat & dahi bhallas, impressive North Indian cuisines like chole bhature, chole kulche, rajma rice, and various desserts like jalebis dripping in ghee, kulhad lassi, flavoured falooda kulfi can leave you with a craving for more. This Indian top city holds magic in the lanes, providing you with the best street food in India. The snacks, meals & sweet dishes offered by this Indian popular city are exceptionally yummy, making it a perfect food paradise.
2) Mumbai
The city of dreams comes under the category of the most popular cities of India. But, if we talk about the best street food in Mumbai, vada pav takes the crown. This vada pav is probably the best staple food in India, consisting of a fried potato dumpling perfectly balanced with chutneys and green chillies. And, not just this, Mumbai best street food other delicacies include bhel puri, sev puri, pani puri, chaat, ice goals, dosas, bun maska, misal pav, etc. The pav bhaji is another favourite snack of busy Mumbaikars. The bhaji made of mixed vegetables will always have a piece of Amul butter floating at the top that skyrockets the taste of the whole dish, and the chopped onions are a perfect salad that balances the spicy bhaji. Moreover, if you enjoy such lip-smacking street food from India by being at the delightful Juhu Beach, it will be like a cherry on the top.
3) Kolkata
Image Credits – flickr
The street food in India tells a lot about its authentic cultures and traditional recipes. The Kolkata street food provides you with some unforgettable & pocket-friendly culinary delights. And no matter whether you reside in the city or not, once you taste the food, it won't leave you anyways. Some of the most popular treats include Kathi rolls with various customizable stuffings like mashed potatoes, eggs, chicken, meat, and many others. There are numerous options for non-vegetarians like mutton chops, kosha mangsho (having succulent meat pieces in gravy that goes well with rice), Mughlai parathas, etc. Besides this, some vegetarian options include ghugni chaat (made with dried white peas, veggies, and Indian spices), jhalmuri (made with puffed rice, roasted peanuts, finely chopped onions, tomatoes, boiled potatoes, and basic spices), puchkas (or golgappas), telebhaja (brinjal/onion/potato or fish coated with gram flour, deep-fried in the hot oil are a perfect evening snack for Bengalis). You can also find some sugary desserts like rasogulla, mishti doi, sandesh, etc., that undoubtedly adds more flavour to the street food of Kolkata, the city of joy.
4) Bengaluru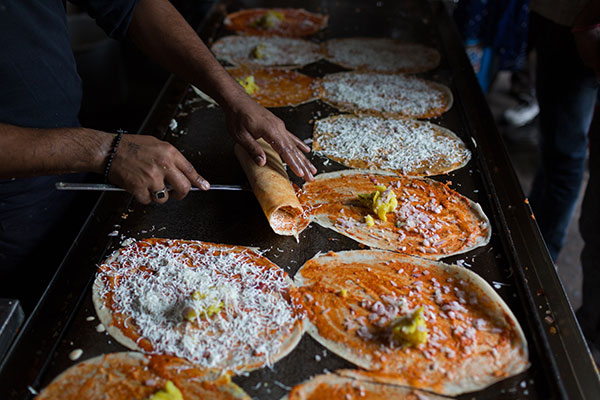 Image Credits – medium
Bengaluru is one of the best cities in India, owing to its increasing advancements in the corporate sector. This top city of India is even better when it comes to finger-licking food items. It is a hub for South-Indian cuisines like idlis, vadas, dosas (which get served with sambhar), akki roti (a bread made with rice flour and a tidbit of finely chopped veggies, served with coconut chutney is a perfect condiment that makes it a hit). Some other must-try delights include several different rolls, kebabs, and the all-time favourite biryani.
5) Amritsar
Have you ever seen a Punjabi having a butter-free meal? Well, that's rare. But, an extra spoon of ghee or butter is something that they love. And, once you try the same, you too might fall for it. The list of street food from India is incomplete without the aromatic hearty meals of Punjabi cuisine. There are several options for you to try, like Amritsari kulchas, shammi kebabs, butter chicken, chicken tikkas, fried fish, mutton masala, mutton chaap, etc. Makki ki roti and sarson ka saag is another must-have meal, especially in the winter season. You can also satiate your sweet tooth by either grabbing a big glass of lassi or indulging in the richness of gulab jamuns, jalebis, seviyans, and gajar ka halwa. 
6) Lucknow
If you wonder, Lucknow is famous for which type of food? Then, you are at the right place. Whether you are a real Nawab or not, the city still treats you like one, offering you the best Nawabi food delights. The flavourful kebabs having crispy coatings & tender fillings, creamy korma, biryani with juicy meat pieces are the ones that are present in almost every corner of the city. Besides, the sinful basket or katori chaat wins your heart with its colourful presentation & mesmerizing taste. The famous food of Lucknow also provides you with some relishing sweet dishes like malai makhan, shahi tukda, kulfi falooda, Banarasi paan that might leave you with a lingering taste.
7) Indore
Indore is another food junction added to the list of Indian street food, owing to its distinct flavour that might leave you spellbound. However, if you want to have a real-time experience, heading to Sarafa Bazaar & Chhapan Dukaan is a must. The soft dahi badas, unique combo of poha & jalebi, spicy garadu (diced & deep-fried yams tossed with the right spices and lemon juice, especially eaten in winter season), bhutte ki kees (fried form of boiled, mashed, gram flour coated corn having the mix of aromatic spices) and khopra patties (similar to aloo tikki, the only add-on is the rich flavour of grated coconut), can make your day. Besides, if you prefer non-veg more, then head to Johny's Hot Dogs, and you will be more than happy to savour the egg and mutton benjos. Moreover, you can always seek an extra bit of happiness when it comes to sweet dishes. From Indori shikanji (a sweet dish made with milk, buttermilk, dry fruits) to mawa baati (a bigger variant of gulab jamun) to jalebas (a bigger variant of jalebi), believe me, if you can gobble those down alone, you are a genius.
8) Chennai
You might have seen the Bollywood movie, Two States. You surely might have noticed Alia Bhatt playing the lead role of a South Indian girl. From the way the food gets served on a banana leaf to the carefree style of eating with hands, it undoubtedly represents the authentic culture of South India. The best cities in India include Chennai, being the safest city. Not only this, but it also provides us with some of the best street food in India. Some of the best ones include idlis, dosas, and uttapams, which are served with sambhar and coconut chutney. Murukkus are another famous treat that the city provides. These are crunchy snacks made from a smooth dough of gram & rice flour seasoned with salt and other spices, which get fried in hot oil until golden brown (goes well with evening tea).
9) Patna
The street food in India is all about the hidden taste and flavourful lanes present in different cities. So, if we go through the Indian street food list, how can we miss out on Patna? You can get the best litti chokha in the city lanes, where litti dripped in ghee gets served with chokha (a perfect amalgamation of brinjals, potatoes, tomatoes, and several Indian spices). Some other good treats include batata puri (which gives you a two-in-one flavour of golgappas & chaat), kadai chicken, mutton kebabs, etc. In addition, sweet dishes like malpua, chandrakala (or pedakiya, somewhat like gujia), dahi jalebi, balushahi are some of the must-have treats if you are in the city.
10) Ahmedabad
Let's start with khakhra, fafda, dhokla, thepla. What is the first thing that came through? Is it the movie 3 Idiots? Well, that's funny. But many others might be thinking about their Gujarati friends, always full of energy. Their hospitality and forgiving nature are the most admirable characteristics. And if you wonder why? First, you need to visit the city and taste some of the heart-warming street food in India.
We hope you enjoy your meals wherever you go!