These are Top 10 most awkward yet very funny Indian comments on YouTube Clips. All the credit for the screenshots goes to You Tube! Browse through this list to experience some of the most hilariously funny yet amazingly funny replies on video clips. Share with your friends on Social networking websites.
01 R.I.P English..(Bloody Rapist)
02 Well, someone is in Hurry…!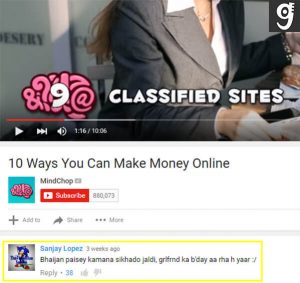 03 Stop it..! BRO
04 Ohhhh, it is Scary..!
05 Agent from Men In Black…
06 Someone, should watch the Highlight…
07 Time To Leave…Earth
08 He is Big Sallu Fan…
09 No Words…
10 Seedhi baat, NO bakwas…